Testingfg of Ads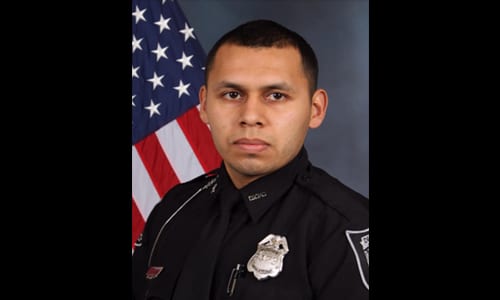 Today, the men and women in blue honored fallen Officer Edgar Flores with a funeral service in Dunwoody, one of two held for him.
Officers and other public safety personnel traveled in a more than mile-long motorcade at 9:30 a.m. from DeKalb County's public safety headquarters in Tucker to All Saints Catholic Church, 2443 Mount Vernon Road, Dunwoody, where the funeral service was held.
A packed crowd, which included Gov.-elect Brian Kemp, attended the service. Tears flowed as tributes  were made honoring Officer Flores.
Officer Flores would have turned 25 years old on Monday, Dec. 17. He died in the line of duty while working a routine traffic stop on Candler Road in South DeKalb on Dec. 13.
Officer Flores pulled over Justin Taylor, 33. Taylor fled on foot and shot the officer in the head as the officer pursued him.
Taylor was shot and killed by police who arrived on the scene  after they tracked him down.
A processional  that included DeKalb law enforcement and others from around the state also was held for Officer Flores on Saturday, Dec. 15.
See the Dec. 15 video shot by Glenn L. Morgan/OCG News here.

Updated News:
DECATUR, Ga. — DeKalb County Police Officer Edgar Isidro Flores was fatally shot on Thursday, Dec. 13, at approximately 5 p.m., near the intersection of Candler and Tilson Roads.
Flores, 24, was hired by the police department on May 8, 2017, and graduated from the police academy on Nov. 4, 2017.
The officer was shot while conducting a traffic stop. The Georgia Bureau of Investigation is investigating the incident.
Breaking News:
A DeKalb County police officer has died after being rushed to Grady Memorial Hospital in critical condition following a routine traffic stop on Candler Road in DeKalb County around 5:30 p.m. Dec. 13.
The officer's identity is being withheld until next of kin are notified, DeKalb Police Chief James Conroy said at a press conference tonight at the scene.
The suspect who shot the officer also died after being taken to Grady.
The suspect was shot as police arrived on the scene and tracked him hiding nearby.
Officials said a K-9 that assisted with the pursuit was shot by the suspect. The K-9 was taken to the vet.
The Georgia Bureau of Investigation is working the scene.