Testingfg of Ads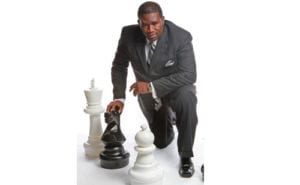 Do you want your child to succeed in school? Do you want him or her to be a leader? Join motivational speaker and chess champion Orrin Hudson to learn how to make the right moves. Hudson and the DeKalb County Police East Precinct are hosting a free workshop, open to youths in grades K-12, on July 2, 10 a.m. to noon, in the Community Activity Center at New Birth Missionary Baptist Church, 6400 Woodrow Road, Lithonia.
Hudson, founder of Be Someone, will teach kids strategies to winning not only on the chessboard, but in life. Come out and learn what it takes to be a champion.
Be Someone was founded in Atlanta in 2001 by Hudson, who credits the game of chess of teaching him important life skills that put him on a path to success growing up. Hudson now uses chess to promote self-esteem and analytical thinking among youths, while teaching them honesty, responsibility and patience. He has touched the lives of more than 50,000 kids through his program.
For more information, e-mail Orrin@besomeone.org or call 770-465-6445.