Testingfg of Ads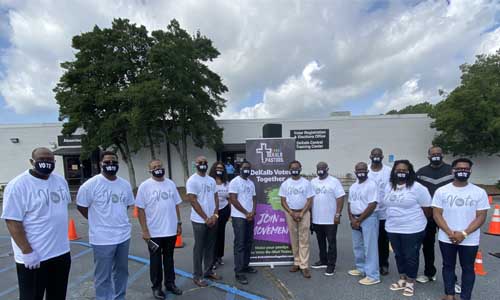 DeKalb Votes Together Campaign Sept. 2, 2020
A coalition of DeKalb County pastors is urging voters to cast their ballots by mail or place them in dropboxes by Oct. 21—ahead of the Nov. 3 general election.
The DeKalb Pastors Christian Alliance announced at a press conference today (Sept. 2) that the campaign, "DeKalb Votes Together," would officially begin this Sunday, Sept. 6, and continue for six consecutive weeks, ending on Oct. 21.
Lee May, lead pastor of Transforming Faith Church and former DeKalb Interim CEO, said the Alliance is organizing as one body and inviting other pastors to come aboard.
"Here's the reality: People trust their pastors. They trust their churches…  They know they have a place of trust and confidence in their churches and pastors. We cannot allow this pandemic to prevent us from voting. We need our pastors to step up and encourage their congregation members to vote early by mail," said May. "Their voice is their vote."
May said the Alliance is pushing for at least 25,000 voters to pledge to cast their ballots by mail or dropbox and at least 50 churches to partner to promote the campaign.
Several pastors joined Lee in making the announcement at the press conference including speakers Dr. Steven N. Dial, Rainbow Park Baptist Church, and Pastor Eleshia V. Cash of Global Leadership Christian Center. Pastor Kerwin B. Lee, Berean Christian Church, Pastor Karl Moore of Clarkston First Baptist Church and Pastor Tyrone Barnette of Peace Baptist Church also were in attendance.
"We need pastors to encourage voters to pledge they will vote, request a mail-in ballot and return the ballot early," said Lee. "We will do an education campaign to make sure that people know how to properly fill in the bubbles on the ballot and update information concerning dropboxes.
Pastors, houses of worship and voters can learn more about the campaign, pledge to vote by mail and find a link to request a mail-in ballot, as well as other information, at www.DeKalbVotesTogether.com