Testingfg of Ads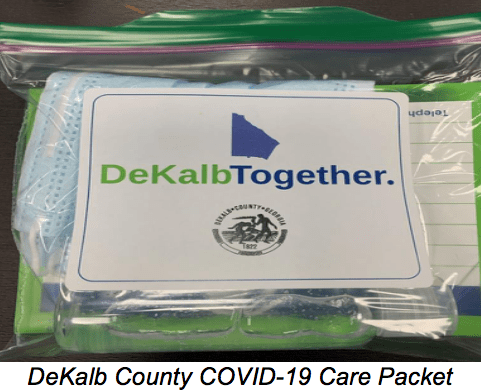 Beginning Saturday, May 1, eighty DeKalb County Police and Fire Rescue cadets and trainees will pass out 10,000 masks along with hand sanitizer to residents over the next six weeks to mitigate the spread of COVID-19.
"DeKalb County has been overwhelmed with phone calls and emails from anxious residents asking how they can get a COVID-19 Care Packet," said DeKalb County CEO Michael Thurmond. "I want to reassure residents that for the next six weeks, we will be passing out these packets as part of our ongoing efforts to inform, educate and protect our residents."
The police and fire rescue cadets and trainees will distribute COVID-19 care packets containing two disposable nonsurgical masks and a container of hand sanitizer, along with a card with tips on how to prevent the spread of COVID-19.
The county's initial efforts will focus on economically disadvantaged communities that the DeKalb County Board of Health has identified as experiencing the highest number of COVID-19 infections. DeKalb County has the second highest number of confirmed cases with nearly 2,100. There have been 49 confirmed deaths from the pandemic.
According to Board of Health data, despite the high number of cases, DeKalb County has the second lowest rate of death among those who have contracted the disease, in counties that have been most impacted by COVID-19.