Testingfg of Ads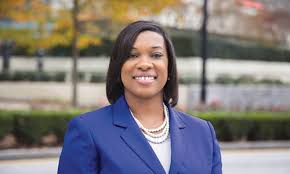 DeKalb County Solicitor-General Donna Coleman Stribling
So you think you can dance? Notable DeKalb County officials will show off their dancing skills as they compete in the second annual Dancing with the DeKalb Stars, a domestic violence fundraiser and resource expo hosted by DeKalb County Solicitor-General Donna Coleman Stribling. The event takes place on Saturday, Oct. 20, at 6 p.m. at the Porter Sanford III Performing Arts & Community Center. The resource expo will open one hour prior at 5 p.m.
The dance competition features nine teams, each of which is comprised of one dance professional and one notable member of DeKalb's legal, public safety, business, and civic communities.
The competitors include:
 David Manuel – Executive Director of Porter Sanford III
 Maj. Donald Chase – Brookhaven Police Department
 Jazzmin Cobble – Stonecrest City Councilwoman
Thomas Glanton, Southwest DeKalb High School Principal
 Debra Jackson – Mayor of Lithonia
 Fatima El-Amin – Judge for DeKalb County Juvenile Court
 Reginald Scandrett – Chief Deputy, DeKalb Sheriff's Office
Connie Stevenson, DCSD Director of School Choice
 Keri Ware – Attorney at Wilson, Morton & Downs LLC
Congressman Hank Johnson is also scheduled to perform a special number in honor of two non-profits: The Women's Resource Center to End Domestic Violence and The International Women's House.
For more information, contact the DeKalb County Solicitor-General's office or visit
Tickets are available online at dancingwithdekalbstars2018.eventbrite.com