Testingfg of Ads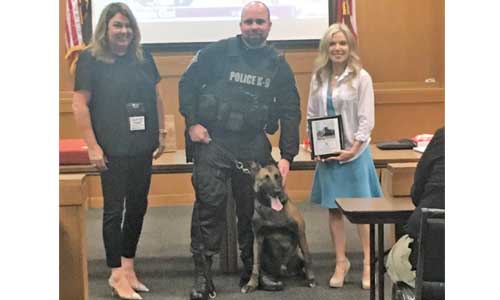 DeKalb County Police Officer Norman Larsen and K-9 Indi were presented the Award of Bravery for saving lives and for consistently serving the county with courage. The Award of Bravery was presented by the Animal Law Source, Prosecuting Attorney's Council of Georgia, National Sherriff's Association and Office of the District Attorney, Towaliga Judicial Circuit during the K-9 Handler Intensive at the Georgia Public Safety Training Center on Jan. 18.
"DeKalb County is extremely proud of Officer Larsen and K-9 Indi," said Public Safety Director Jack Lumpkin. "The county appreciates their unwavering dedication to keeping DeKalb safe while serving our community with excellence."
On Dec. 13, 2018, K-9 Indi and his handler Officer Norman tracked down and apprehended a suspect accused of fatally shooting Officer Edgar Flores after a traffic stop. K-9 Indi was shot in the face by the suspect and lost his right eye. K-9 Indi has made a full recovery and is scheduled to complete an evaluation later this month to determine if he can return to work.
Partners for five years, Officer Larsen and K-9 Indi are decorated DeKalb County officers who helped to catch numerous suspects, including a suspect involved in a brutal home invasion.
"Officer Norman Larson and K-9 Indi reflect the good in this world. Without pause and with much bravery, they saved many lives that day. Indi was by his side, without wavering did his job, fought for his own life, lost an eye and simply wants to come to work. Larson and Indi are a team of heroes," Claudine Wilkins, Founder of Animal Law Source.