Testingfg of Ads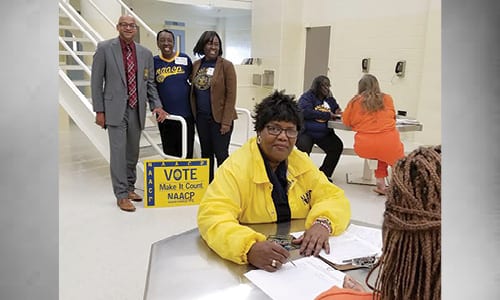 Inmates at the DeKalb County jail will have another opportunity to register to vote, thanks to the DeKalb branch of the NAACP. 
Volunteers of the DeKalb NAACP are returning to the jail on Aug. 30 to distribute and collect forms for qualified inmates who want to vote by absentee ballot in the Nov. 6 General Election.
Officials said 73 inmates became registered voters on June 28 with the assistance of the NAACP.
"Individuals who are incarcerated and awaiting trial during election season should not have to be deprived of the right to cast a ballot," said DeKalb County Sheriff Jeffrey L. Mann. "In Georgia, jail detainees can still vote, unless they are already convicted felons.  Even those who have been convicted of a felony can apply to have voting rights restored.  Our partnership with the DeKalb NAACP allows us to share valuable information with men and women in our custody who want to exercise the right to vote."