Testingfg of Ads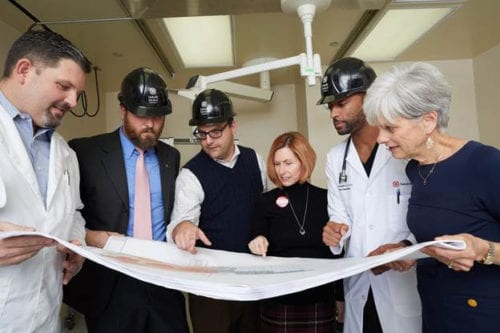 Thanks to generous contributions from the community, the DeKalb Medical Foundation exceeded its $2.1 million campaign goal and the hospital will begin the first phase of the expansion and renovation of the Emergency Department on the North Decatur campus, officials announced. The project is expected to be completed in December.
The DeKalb Medical Emergency Department on its North Decatur campus serves more than 70,000 patients every year. The renovation will reduce wait times and create a more modern environment of care, officials say.
The project is made possible through donations to the DeKalb Medical Foundation's Building the Future of Emergency Medicine campaign, including a $100,000 gift from the DeKalb Medical ED doctors.
"We are so grateful to our donors and the community for making this renovation possible," said Kathy Peters, chair of the DeKalb Medical Foundation "This will enable DeKalb Medical to better serve members of our community when they come to the hospital for emergencies."
Eric Dennin, director of Emergency Services, praised the project.
"These renovations will positively affect our community, our staff and our hospital partners," said Dennin said. "One such impact is the creation of an Emergency Medical Service (EMS) intake area that will allow our EMS partners to get in and out of the Emergency Department more efficiently.  Spending less time in the hospital allows them to get back out in the community faster."
Dennin said another example of the positive impact the project will have is the creation of a modernized Clinical Stabilization Unit, where patients experiencing behavioral health conditions can receive dedicated care in a secure environment.
Other improvements include:
Creation of a new intake area for ambulances which will enable the emergency   personnel who bring patients to us to get back into the field more quickly.
Addition of a Radiology Room with x-ray to be used exclusively for ED patients.
Addition of 14 new patient care rooms.
Addition of a bereavement room to give loved ones a private, comforting space to grieve.
Creation of a secured Clinical Stabilization Unit for Behavioral Health Patients
An Upgraded Nurse Call System.
A Redesigned central work station to create an open format and better visualization of the patients.
"Our redesigned Emergency Department will ensure our reputation for clinical excellence will be matched by the convenience we offer to our patients," said Robert (Bob) Wilson, CEO of DeKalb Regional Health System. "We are grateful to the community for their generosity, and we are proud to continue our commitment to serve our patients with compassion and innovation."
While the Foundation has exceeded its goal for the Emergency Department renovation project, donations are still being accepted to extend the project further. For more information, call 404-501-5956 or visit www.dekalbmedical.org.