Testingfg of Ads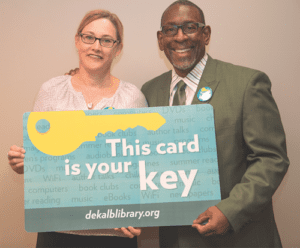 DeKalb County Public Library and the DeKalb County School District are teaming up for a library card sign-up campaign this fall to encourage all students, their family members and school system staff to get a library card.
Beginning in September, which is Library Card Sign-Up Month, and continuing through October, the Library and the school system will promote the benefits of having a card along with the Library's new and colorful, limited-edition card, designed just for the campaign.
School Superintendent R. Stephen Green is chairing the campaign. He will appear on a specially-designed poster which will be displayed in each of DeKalb County's 126 elementary, middle and high schools, encouraging students to get a card. He and his staff also will work with library staff on card sign-up events at schools and at library branches.
"I am honored to be asked and to chair the DeKalb County Public Library sign-up campaign," said Green. "The Public Library is a vital partner with the District and our community of learners."
This year's campaign theme is "This Card is Your Key." The limited-edition card for the campaign was designed by library staff member Lee Turner, who won a staff card design contest. Ms. Turner is a youth services specialist at the Chamblee branch.
"We have very talented staff at DeKalb County Public Library. And I think you'll agree with me when you see Lee Turner's design," said Library Director Alison Weissinger. "The design is perfect for this year's campaign, incorporating as it does many of the great benefits a library card."