Testingfg of Ads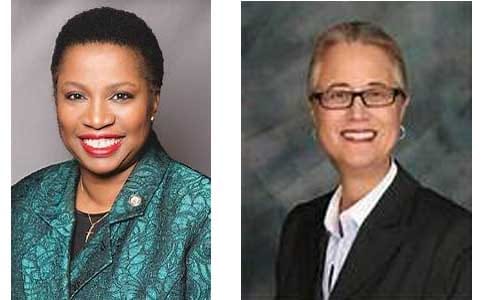 Pictured L-R: State Representatives Doreen Carter and Karla Drenner

 
DeKalb Superior Court hearing set Oct. 26
Members of the DeKalb County Legislative Delegation, co-chaired by State Rep. Doreen Carter (D-Lithonia) and Karla Drenner (D-Avondale Estates), are demanding that the Georgia Environmental Protection Division (EPD) revoke the solid waste permit issued to Metro Green Recycling Three, LLC for construction of a plant in the city of Stonecrest.
The City of Stonecrest and Metro Green are scheduled for a continuance hearing in DeKalb County Superior Court on Monday, Oct. 26, 9 a.m. The case, which will be heard by Judge Tangela Barrie, will be available via Zoom for public access: https://www.youtube.com/channel/UC0oEuLcgV3Rpx-PHhHoSMSg
Legislators have sent a letter to the Georgia Department of Natural Resources condemning the permitting of the plant's construction, which is under way at 5152 Snapfinger Woods Drive in a residential community in the city of Stonecrest. The letter states the plant is in violation of DeKalb County's Solid Waste Management Plan, which does not allow any entity other than DeKalb County to handle waste or conduct recycling in the county. Legislators also contend the construction amounts to environmental racism.
"The reason that DeKalb County determined Metro Green's facility is inconsistent with the County's Solid Waste Management Plan is because the county was trying to protect South DeKalb, which is primarily African American, from becoming a dumping ground for solid waste handling facilities once again," said Rep. Carter. "Black and poor communities have suffered for far too long from polluting, noisy and unsightly industrial and solid waste facilities that the EPD has permitted to operate in our neighborhoods."
Rep. Drenner also pointed to environmental racism and raised concerns about the public's health as a result of the project.
"The Georgia Environmental Protection Division has a duty to honor and uphold the law and to protect the environmental and public health of all Georgia residents," said Drenner. "The DeKalb County Legislative Delegation is dismayed by the EPD's decision to violate this duty and issue a solid waste permit that never should have been issued to Metro Green Recycling for a large industrial facility in the middle of a Black neighborhood. I hope that the EPD can stand in support of the public by revoking this permit immediately."
State Rep. Viola Davis(D-Stone Mountain) added in the news release from state legislators to the media: "We need to address the process that was used to obtain the state permit."
The legislators' letter is below: