Testingfg of Ads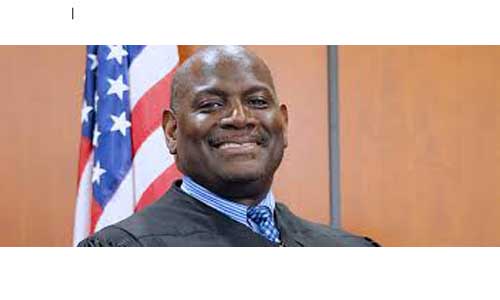 Judge Vincent Crawford
DECATUR, GA.—The Superior Court judges, under the leadership of Chief Judge Asha Jackson, has approved the reappointment of Judge Vincent Crawford as chief judge of Juvenile Court for another two-year term. The extension of his tenure will allow for continuation of the strategic plan in dealing with the COVID-19 pandemic.
Judge Crawford, a Savannah native, graduated with honors from Florida A&M University in 1987 with a Bachelor of Science degree in political science. He is a graduate of the Walter F. George School of Law at Mercer University. He began his legal career with Georgia Legal Services in 1990 and with primary practice of representing battered women in divorce proceedings.
In 1993, Judge Crawford began his career as a prosecutor with the Richmond County District Attorney's Office and as a deputy chief of the violent crimes' division. He joined the DeKalb County District Attorney's Office in 1995 and served on the DeKalb County District Attorney's Office trial team for two years.
In 2005, Judge Crawford was appointed as associate magistrate judge for DeKalb County and 2006 was sworn in as associate Juvenile Court judge.
Judge Crawford is a member of the Georgia Council of Judges and National Council of Family and Juvenile Court Judges. Judge Crawford was appointed chairman by the Supreme Court of Georgia for the Juvenile Court Improvement Initiative. He is a recipient of numerous awards, including Romae T. Powell Award from Juvenile Court Association of Georgia, Outstanding Leadership Award from Jack and Jill of America, Georgia Department of Human Resources & Youth Empowerment Award, and many others. He is a member of Alpha Phi Alpha Fraternity Inc.