Testingfg of Ads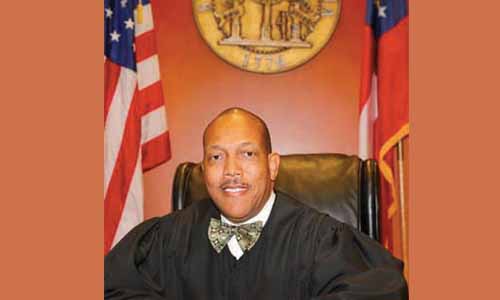 DeKalb County State Court –Traffic Division Judge Ronald Ramsey was elected District 4 Representative for the American Bar Association's Judicial Division – National Conference of Specialty Court Judges (NCSCJ), at its annual meeting in New York City.
Ramsey will serve as an educational and membership resource to judges in Georgia, North Carolina, South Carolina, Tennessee and Puerto Rico. He will help to improve access to justice and other wide-ranging topics affecting the judiciary, with limited or specialized jurisdiction. Ramsey was also appointed to the NCSCJ Membership Committee and the Traffic Court Committee. He was named a presenter for the NCSCJ Traffic Seminar, which will be held in San Diego, CA in March 2018.
The American Bar Association, founded in 1878, is a voluntary professional organization with over 400,000 members in North America. The ABA's mission is to improve the legal profession with practical resources for eliminating bias, enhancing diversity and advancing the rule of law.
"I am honored to have the opportunity to represent DeKalb County and the State of Georgia on this national and international stage to share some of the best practices we have achieved in our state and to continue to seek new ways to improve the administration of justice through the courts," said Ramsey.
Ramsey was the first African-American judge to serve on the Municipal Court in Stone Mountain, from 2000-2007. Ramsey took the oath of office as State Senator for the 43rd District of Georgia from January 2007 to June 2015. On June 30, 2015, Governor Nathan Deal appointed Judge Ramsey to serve on the newly created DeKalb County State Court Traffic Division-D.  Judge Ramsey was subsequently elected to the appointed position in May 2016 and is now serving the first year of a four-year term commencing January 1, 2017.
Ramsey received a Bachelor of Arts Degree in Political Science, with honors from North Carolina Central University. Ramsey earned his Doctor of Jurisprudence Degree from John Marshall Law School and celebrated his 25th year as a licensed attorney in February 2017.