Testingfg of Ads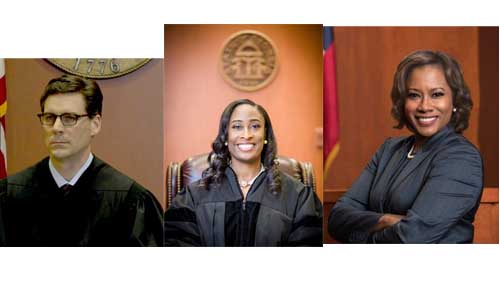 Judge J.P. Boulee    Judge Latisha Dear-Jackson   District Attorney Sherry Boston
DeKalb Superior Court Judge Latisha Dear-Jackson has been named to oversee the high profile Anthony Hill case, after three other judges recused themselves less than two weeks before the trial was scheduled to begin.
The case has drawn national attention. Former DeKalb Police Office Robert Olsen has been charged with the fatal shooting of Hill, an Afghanistan war veteran who had stopped taking his meds and was roaming naked when Olsen, who was dispatched to the scene, found outside the apartment complex where he lived. Olsen was charged with murder after fatally shooting Hill, who was unarmed. The shooting took place on March 9, 2015. Olsen said he fired in self-defense.
Judge J.P. Boulee removed himself from overseeing the trial without an explanation, District Attorney Sherry Boston said in a Feb. 11 news release.
Boulee, who has been nominated for a federal judicial vacancy, stepped down from the case after questions arose about his contribution to a charity walk sponsored by Boston.
Boston issued the following statement in the release:
"Late this afternoon, the Office of the DeKalb County District Attorney received notice of an Order of Recusal from Judge J.P. Boulee in the matter of State vs. Robert Olsen. The Order provided no specific basis for recusal.
We have spoken with the victim's family notifying them of this development. They are understandably devastated. And while we, too, are dismayed by this action, we are not deterred. We plan to file a motion seeking a hearing detailing the specific reasoning for this recusal and clarification as to whether such recusal extends to ALL cases assigned to this Judge.
In the interim, once the case has been reassigned to a different Judge, we will ask that it be immediately set for trial on its previously scheduled date of February 25, 2019.
The State stands ready to proceed in the interest of justice for this family who has waited four long years for their day in Court."
Boulee was initially replaced by Judge Asha Jackson, who recused herself. The case was then assigned to Courtney Johnson, who also recused herself. Jackson and Johnson did not say why they did not wish to take on the case. Dear-Jackson agreed to take on the case but her staff said the trial scheduled Feb. 25 would be delayed because she already has a murder trial scheduled for that day.
There was no immediate word at OCG Newsdeadline on when the Olsen trial would be rescheduled.