Testingfg of Ads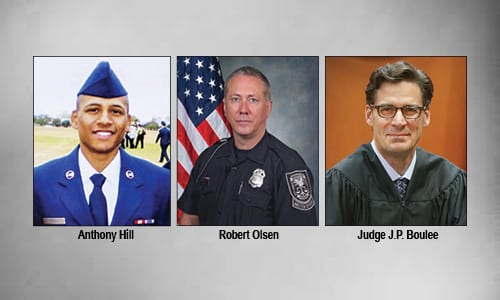 By Valerie J. Morgan
DeKalb County Superior Court Judge J.P. Boulee has rejected former DeKalb Police Officer Robert Olsen's motion to drop all charges against him in the shooting death of Anthony Hill. The unarmed and naked Air Force veteran was roaming outside the Chamblee apartment complex where he lived when Olsen was dispatched to a possible signal 22(demented person) on March 9, 2015. Hill's family said he was dealing with Post Traumatic Stress Disorder.
 Judge Boulee's Aug. 14 ruling paves the way for the case to move forward to trial, although no date has been set yet.
 Olsen is facing two counts of felony murder, one count of aggravated assault, one count of making a false statement and two counts of violation of oath by a public officer.
Olsen said he shot Hill in self-defense. However, the judge said in his ruling that Olsen failed to show that it was reasonable to believe that Hill was about to kill him, inflict great bodily injuring upon him or a third person, or commit a forcible felony.
"As an initial matter, no evidence exists that Defendant ever believed that Hill was going to kilI him, and no witness testified that they thought Hill was capable of killing Defendant. Any belief by Defendant that Hill was about to kill him and that deadly force was necessary to prevent the killing was not reasonable," Boulee said in the ruling. "Because Defendant did not prove by a preponderance of the evidence that he was justified in using deadly force, Defendant's Motion to Dismiss Based on Self-Defense Immunity  is HEREBY DENIED."  
Retired Lt. Army Col. Amos King, who heads Justice for Veterans in DeKalb County, said he is pleased the case is finally moving to trial. 
"We're very excited. It's been three long years. The family has suffered tremendously. Now it's in the hands of DeKalb County citizens to decide," said King, who has been on the front lines fighting for justice for Hill and his family.  "As we move forward, we want to make sure that the public knows what is going on. We're not finished yet. There are more cases that we're dealing with. Hopefully, this one will be over before the end of the year. We believe the truth is going to prevail."
King thanked former DeKalb District Attorney Robert James for indicting Olsen, saying James showed "a lot of courage" in indicting a police officer. King also commended Eric D. Echols, a private investigator who tracked down several witnesses in the case. Echols was working for Attorney Chris Chestnut, who was representing Hill's family at the time. Echols said he turned over all of his findings to the District Attorney's Office.    
"I talked to several witnesses that the GBI never interviewed. One of them said he saw Olsen get out of the car and fire two shots, killing Anthony Hill. The witness said Hill never lunged at the officer," said Echols.