Testingfg of Ads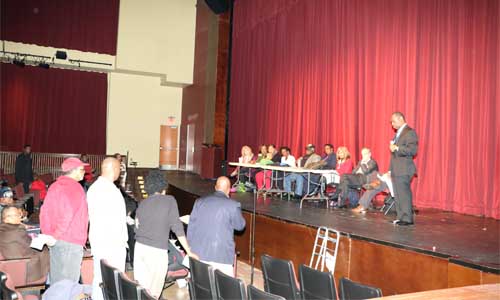 The Greenhaven cityhood movement, a proposal for full-time mayor for Stonecrest and MARTA rail expansion were among the hot topics discussed at the House Delegation's pre-legislative meeting on Dec. 5 at the Porter Sanford Performing Arts Center in Decatur. Chairman Howard Mosby conducted the meeting with several of the state lawmakers pitching in to field questions and address issues.
State legislators spent nearly three hours listening to the concerns of constituents, allowing everyone in the audience who wanted to speak to have a turn. Several spoke in support of a proposal to create the city of Greenhaven including Kathryn Rice, who is leading the effort, while several spoke against it including Ed Williams, chair of Concerned Citizens for Effective Government.
Citizens also expressed opposing views on a proposal to make Stonecrest's mayor full time with full-time pay and the expansion of MARTA rail into South DeKalb.
Members of the DeKalb County House Delegation will host a pre-legislative meeting on Tuesday, Dec. 19, 6:30 – 8 p.m., at the Manual Maloof Auditorium, 1300 Commerce Drive, Decatur.