Testingfg of Ads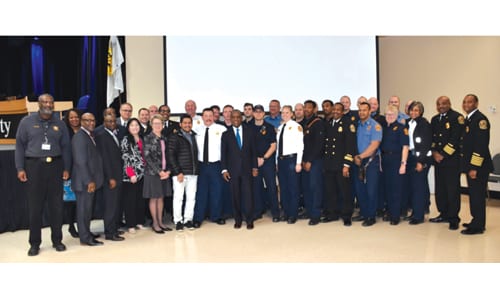 DeKalb County CEO Michael Thurmond and the Board of Commissioners proclaimed Jan. 23 as "DeKalb County Fire Rescue Day." Firefighters of DeKalb County Fire Rescue were recognized for their role in saving nearly 100 residents at Avondale Forest Apartments.
"These incredible acts of courage and heroism during the Avondale Forest Apartments fire are testaments to the training, commitment and courage of our public safety employees, said CEO Thurmond. "I am extremely proud of our fire department, our 911 operators and administrative staff who do an extraordinary job everyday protecting our county."
On Jan. 3, DeKalb County firefighters boldly rushed to face danger and save several families, including children, who were trapped in the burning apartment building. More than 60 firefighters from all over the county coordinated an incredible effort in the rescue of a woman confined to a wheelchair, newborn twins and a four-year-old girl, among others. Assistant Chief Jeff Crump, Capt. Jovan Carter, Capt. Jackie Peckrul and Capt. Scott Stroup also were recognized for their heroic acts of service to the citizens of DeKalb County.