Testingfg of Ads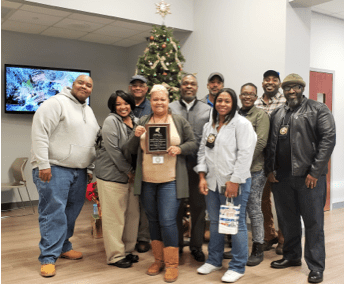 The Southeastern F.O.G. Alliance awarded DWM
with the 2019 FOG Program of the Year award.
The DeKalb County Department of Watershed Management (DWM) was recently recognized with a top award for prioritizing public health and preventing sewer spills caused by Fats, Oils and Grease (FOG).
Awarded by the Southeastern FOG Alliance, DWM recently received the 2019 FOG Program of the Year award for outstanding program management including inspection, documentation, enforcement and public education.
Approximately 40 percent of sanitary sewer overflows in DeKalb County are caused by FOG being poured down sink drains. FOG coats the inside of pipes and eventually forms a blockage leading to a spill.
The "No FOG, No Clog" education program educates residential customers and students on the importance of keeping FOG out of the sewer system. The campaign partnered with Georgia Piedmont Technical College and developed FOG disposal education materials for its English as a Second Language (ESL) students. The county also partnered with the DeKalb County School District to educate more than 102,000 elementary, middle and high school students about the hazards of grease clogs.
The Southeastern FOG Alliance is a not-for-profit organization dedicated to public education and the promotion of a cleaner environment. The alliance has been helping to prevent FOG for more than 17 years and is represented in eight states including Alabama, Florida, Georgia, Kentucky, Mississippi, North Carolina, South Carolina, and Tennessee.
For more information about DeKalb County's FOG program, visit www.dekalbwatershed.com.