Testingfg of Ads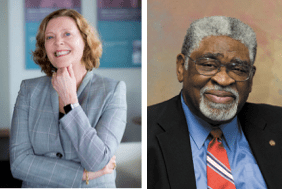 Dr. Claire Sterk and Dr. Eugene Walker
will be honored during DeKalb's King Celebration.
Emory University President Claire Sterk and Dr. Eugene Walker, a former state senator and former DeKalb school board chairman, will be honored during DeKalb County's 36th annual Dr. Martin Luther King Jr. Celebration.
Sterk and Walker will receive the Nathaniel Mosby Humanitarian Award, which celebrates the recipients' commitment to tireless community service and outstanding dedication to being an agent for positive change.
Appointed to head Emory University in 2016, Sterk is the first woman to serve as Emory University's president. Additionally, she is the Charles Howard Candler Professor of Public Health at Emory and has been recognized internationally for her work on addiction and infectious diseases, including HIV/AIDS.
Walker served as a state senator representing District 43 from 1984 to 1992 and was the first African-American to serve as majority whip. Walker served as the commissioner of the Georgia Department of Juvenile Justice from 1995 to 1999 and served on the DeKalb County Board of Education.
The celebration, "King's 2020 Vision: The Beloved Community – The Fierce Urgency of Now," will be held Friday, Jan. 17, 11:30 a.m. to 1 p.m., in the Maloof Auditorium, 1300 Commerce Drive, Decatur.
The 2020 tribute marks the 52nd anniversary of King's death and the 36th consecutive year DeKalb will host the employee-planned event honoring the life and legacy of Dr. King.
The celebration is free and open to the public. For more information, contact Nichole Simms at jnsimms@dekalbcountyga.gov or 404-371-2552.