Testingfg of Ads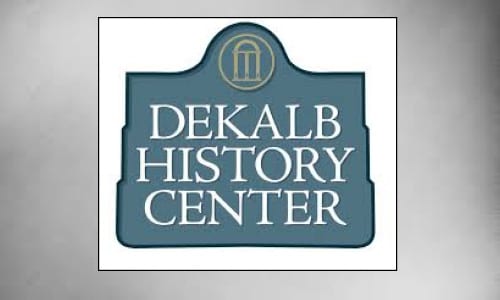 The DeKalb History Center and the Flat Rock Archives will host an evening reception on Aug. 24, 7 – 8:30 p.m., at the DeKalb Historic Courthouse, 101 E. Court Square, Decatur, to announce the opening of an exhibit dedicated to the historic Flat Rock Community – one of the oldest African American communities in DeKalb County. The Flat Rock exhibit will replace "Tears and Curses: a Human Look at the Civil War" and will officially launch in February 2019.
The Flat Rock Archives was co-founded in 2006 by Johnny Waits, the late Rev. T.A. Bryant, Jr., and Vera Whitaker and is the only African American archival facility in DeKalb County. Nestled within the Arabia Mountain National Heritage Area, a proud partnership between the Archives and the Heritage Area has been ongoing since the Archives was founded. The location of the Archives is situated on the T.A. Bryant, Sr., Homestead which was built in 1917 and includes a barn, smokehouse, and outhouse. Preservation efforts to maintain this unique treasure have gained local and national recognition through numerous awards. Also, in 2006, the documentary series African American Lives featuring Dr. Henry Louis Gates, Jr., featured the Flat Rock Archives and Community when actor Chris Tucker's ancestry was researched.
The reception will include wine, light refreshments, a live oral history with Patsy Moon, and other guest speakers. A video detailing the history of the Flat Rock Community will be featured in the "Reclaimed by Nature" Arabia Mountain exhibit. Guests will enjoy a small photo gallery preview of the coming exhibit and the opportunity to view our current exhibits. This partnership is monumentally consequential as it will explore and document, in detail, a community that has thrived as one of the oldest African American slave resettlement areas in America. For sponsorship opportunities, contact Johnny Waits at flatrockarchives@gmail.com
The reception is free and open to the public.