Testingfg of Ads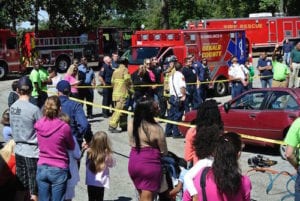 DeKalb County firefighters will host the 14th Annual DeKalb Fire Safety Festival on Saturday, Oct. 1, at The Gallery at South DeKalb, 2801 Candler Road, Decatur.
The family fun event will promote fire safety and prevention, kicking off National Fire Prevention Week. The Southwest DeKalb High School Drumline will kick off the festivities at noon.
The free festival will feature Cheddar, a Dalmatian who enjoys teaching fire safety, entertainment, demonstrations, a junior firefighter combat challenge, inflatable gyms, rides and other activities. Participants can practice crawling low in a smoked-filled room in the fire safety house.  Teens can learn about distracted driving on an obstacle course. DeKalb County firefighters will demonstrate how to rescue someone from a wrecked car in a vehicle extrication exercise.  Lowes® will sponsor an interactive build station.
The National Fire Protection Association (NFPA) sponsors the National Fire Prevention Week.  This year's theme is "Don't Wait – Check the Date!  Replace Smoke Alarms Every 10 Years!"
A recent survey conducted by NFPA revealed that only a small percentage of people know how old their smoke alarms are, or how often they need to be replaced. That lack of awareness is a concern for the DeKalb County Fire Rescue Department and NFPA.  Smoke alarms do not last forever.
For more information about the festival or smoke alarms, contact the Public Education Unit at 770-406-7491.
Photo Source: Brookhaven Post