Testingfg of Ads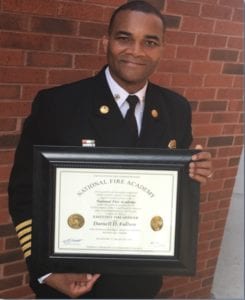 DeKalb County Interim CEO Lee May honored Fire Chief Darnell Fullum on Sept. 27 for completion of the National Fire Academy's Executive Fire Officer Program.
The four-year course provides senior fire officers with a broad perspective on various facets of fire and emergency services administration. The courses and accompanying research examine how to exercise leadership when dealing with difficult or unique problems within communities.
Fullum said the training will go a long way in helping with overall risk reduction.
"This program gave me even more helpful tools to improve the DeKalb County Fire Rescue Department," said Fullum. "Things like working with the elderly on fire risk reduction is one of the many components of this course and I'm already using those elements within the department."
The National Fire Academy works to enhance the ability of fire and emergency services and allied professionals to deal more effectively with fire and related emergencies.