Testingfg of Ads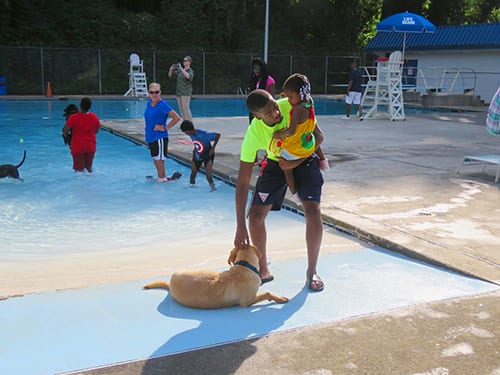 DeKalb pet owners and their dogs gathered for a day of fun in the sun at the first ever Doggie Splash Paw-looza on Saturday, Sept. 8, at the Midway Park Pool in Decatur. The inaugural pool party for pooches, sponsored by DeKalb County Recreation, Parks & Cultural Affairs, celebrated the close of the summer season by allowing local pet owners to bring their dogs out for a dip in the pool.
David Manuel, Interim Deputy Director at DeKalb County Recreation, Parks & Cultural Affairs as well as executive director of the Porter Sanford III Performing Arts and Community Center, said the event brought together one of DeKalb's largest populations – families with pets. 
"For our first time, we were hoping to get a minimum of 25 dogs. We got 71. The event was very successful, and fun was had by all – especially the dogs," said Manuel.
Dog enthusiasts from various parts of DeKalb and metro Atlanta attended the event which featured music, games, food, doggie treats and pet-friendly vendors.  
The event, which was $5 per dog, will help provide enhancements for Brookside and Mason Mill dog parks.
– Mackenzie N. Morgan