Testingfg of Ads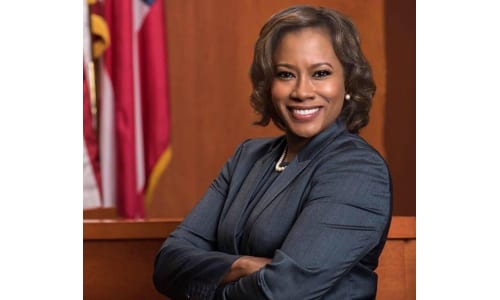 Task Force combats human trafficking 
DeKalb County District Attorney  has been appointed to the Georgians for Refuge, Action, Compassion, and Education (GRACE) Commission, a task force created by Georgia's First Lady, Marty Kemp, to combat human trafficking in the State.
First Lady Kemp publicly announced the 22 members named to the Commission during a press conference on April 23 at the State Capitol.
"It is my pleasure to officially welcome all members to the GRACE Commission," said First Lady Kemp. "I am confident that we have put together a great team of dedicated individuals who are well-equipped to shine a light on this terrible industry plaguing our state. I thank each member for giving their time and name to this effort and we look forward to the important work ahead."
Boston said she was pleased to be selected to serve on the Commission.
"I am honored to have been selected to participate in this bold initiative and to contribute some of the ideas and insights we are using to combat this issue in DeKalb County," said District Attorney Boston. "I appreciate Governor and First Lady Kemp's commitment to making this issue a priority for our State and the communities we serve."
The Commission is comprised of public officials, law-enforcement, for-profit and non-profit organizations, healthcare officials, and subject matter experts.
The first meeting for the GRACE Commission is tentatively scheduled for May 8.
Co-Chairs:
Marty Kemp – First Lady of Georgia
Jan Jones – Speaker Pro Tempore
Vic Reynolds – Director, Georgia Bureau of Investigations
Members:
Allison Ausband – Senior Vice President of In-Flight Services, Delta Air Lines
Stephanie Blank – Board Chair, Georgia Early Education Alliance for Ready Students and President, Naserian Foundation
Sherry Boston – DeKalb County District Attorney
Mary Frances Bowley – Executive Director, Wellspring Living
Chris Carr – Georgia Attorney General
Dr. Meria Carstarphen – Superintendent, Atlanta Public Schools
Geoff Duncan – Georgia Lieutenant Governor
Evia Golde – Community Advocate, United Way of Greater Atlanta
Donna Hyland – CEO, Children's Healthcare of Atlanta
Katie Kirkpatrick – Chief Policy Officer, Metro Atlanta Chamber
Dave McCleary – Vice Chair Rotary Action Group Against Slavery, Rotary International and Founder/CEO, End Human Trafficking Now
Danelle McCusker Rees – President of Human Resources US Domestic Operations, UPS
Jay Neal – Director, Criminal Justice Coordinating Council
B.J. Pak – United States Attorney
Gene Rackley – Director of Government Relations, Coca-Cola Company
Tom Rawlings – Director, Division of Family and Children Services
Heather Stockdale – CEO, Georgia Cares
Michelle Wallace – Senior Vice President – Clinical Operations, Grady Health System
Camila Zolfaghari – Vice President of Policy, Street Grace