Testingfg of Ads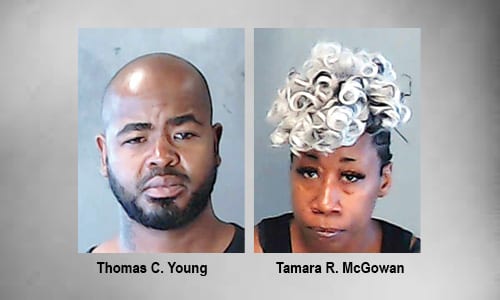 A Stone Mountain couple has been arrested by the DeKalb County Sheriff's Office Sex Offender Unit on charges they caused harm to two juveniles.
Warrants issued on July 19 allege that Tamara Raychell McGowan, 38, and Thomas Charles Young, 42, locked two juveniles in the basement of their home on North Hairston Road for hours and fed them noodles only once a day between June 1, 2017 and April 30, 2018.
The warrants also allege that the suspects exposed the juveniles to drug use and sexual activity, and that they attempted to have the juveniles participate.
McGown and Young are both charged with Cruelty to a Child-First Degree, Deprive, Cruelty to Child-First Degree Pain, Criminal Attempt Sodomy, Cruelty to Child Second Degree and Simple Assault Fear. The DeKalb County Sheriff's Office Sex Offender Unit located the couple sleeping in a vehicle in a Walmart parking lot near Stone Mountain. Both were taken into custody without incident and transported to the DeKalb County Jail.