Testingfg of Ads
Please note that prices for the Expo on Oct. 21 have been removed, courtesy of the event supporters.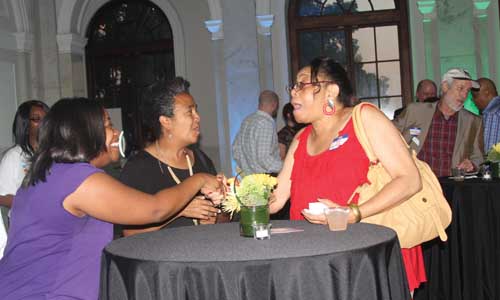 By Mackenzie N. Morgan
Over 200 influencers and tastemakers showed up to celebrate the launch of the DeKalb Entertainment Commission, a new division of Decide DeKalb, the county's economic development authority.
The Oct. 11 event at the DeKalb History Center in downtown Decatur brought together people from various industries in government, film, television, music and digital entertainment for an evening of networking, live music and hors d'oeuvres and libations provided by sponsor Jack Daniels. The event was emceed by radio personality Frank Ski with remarks by Ray Gilley, president of the Decide DeKalb Development Authority.
"We're working hard and fast to make it easy for the industry to find us to get what they need and get their projects done," said Gilley.
The Commission's kickoff continues on Oct. 21 with an inaugural Entertainment Expo, which will offer panels, networking and other resources for DeKalb businesses and residents.
Andrew Greenberg, chairman of the DeKalb Entertainment Commission, said more than 150 productions were filmed in unincorporated DeKalb this year and that the commission is looking to double that number in the next few years.
"The Commission will be an important resource for DeKalb County as the entertainment industry continues to grow across Georgia. It has already had an enormous economic impact statewide, with $9.5 billion in film and television, $3.7 billion in music and almost $2 billion in digital entertainment," said Greenberg, who serves on the state commission. "Entertainment is the big untapped invisible gem in this county."
DeKalb CEO Michael Thurmond thanked those responsible for launching the new commission, saying the office further equips the county to be a game changer.
The commission was approved by the DeKalb Board of Commissioners in May. More than $200,000 was allotted for its development and to provide funding for one full-time position and several part-time positions, according to officials.
DeKalb is home to three major movie studios – Third Rail, Eagle Rock and Blackhall Studios – which offer 13 soundstages and 740,000 square feet of combined production space. Movies currently being filmed in DeKalb include "Rampage" (2018) starring Dwayne Johnson ("The Rock") and "Godzilla: King of the Monsters" (2019).
Sherri Scott, a writer and producer based in Atlanta, said she attended the event to network and to learn how the commission would influence the film industry locally.
"It is good to know what incentives and resources are available that will make people want to shoot here," said Scott.
The Entertainment Commission offers local businesses competing in Georgia's fast-growing entertainment industry access to a collaborative, supportive infrastructure to bolster economic growth and foster a sense of community among DeKalb's creative community. In addition to increasing employment opportunities for those seeking entertainment careers, officials said the new commission plans to provide production companies with a seamless permit process to encourage more companies to choose DeKalb.
Box this information:
Oct. 21 Inaugural Entertainment Expo:
On Saturday, Oct. 21, 9 a.m. – 2:30 p.m., the Commission will host the Inaugural Entertainment Expo with resources and information for DeKalb companies and professionals seeking to build their presence in the entertainment industry. Dozens of panelists, mentors and vendors will be on hand to provide support and expertise.
Panel discussions with industry professionals in TV/Film, Music, Digital Entertainment and Gaming
Mentor Meet-Ups
Vendor Booths
Where: Georgia Piedmont Technical College Conference Center
495 N. Indian Creek Road, Clarkston, GA 30021
Cost: Free DeKalbEntertainExpo.eventbrite.com
New Tools, Resources, Economic Impact:
A new website — DeKalbentertainment.com— providing resources across all three entertainment industry sectors (Film/TV, Music, Digital Entertainment)
A new online portal — accessible through the new website — will allow productions to identify, see and select locations, streamline permitting and approvals, and see county maps
The county will offer a regular series of events to educate and support local business
An ongoing marketing effort will showcase DeKalb to statewide, regional and national audiences
"The Commission's commitment to generating economic impact in DeKalb has already been demonstrated," said Shelbia Jackson, Entertainment Liaison for the DeKalb Entertainment Commission. "We've contracted with several DeKalb-based companies to design our new logo, build the new website, plan the launch and Expo events, create signage, and provide marketing and public relations services."