Testingfg of Ads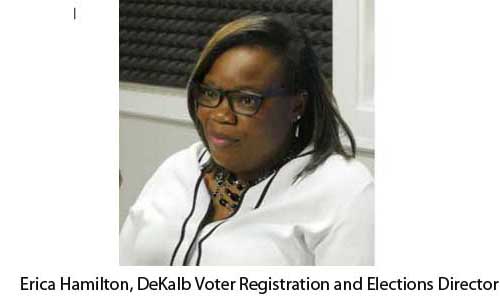 Georgia Secretary of State restricts drop boxes, early processing of absentee ballots
The DeKalb Board of Voter Registration and Elections approved changes to advance voting times for two upcoming elections.
The board voted to adjust all available advance voting times to begin at 8 a.m. and conclude at 4:30 p.m. to align the Georgia House District 90 runoff election and Clarkston City Council special election.
Advance voting for House District 90 race takes places Feb. 24- March 5. The runoff election is scheduled for March 9.
Advance voting for a special election to fill a seat on Clarkston's City Council begins Feb. 22 through March 12 with the election scheduled for March 16.
Additionally, DeKalb Voter Registration and Elections (DeKalb VRE) Director Erica Hamilton acknowledged changes to drop box access for these upcoming elections.
"We were notified by the Georgia Secretary of State that the emergency measure allowing us to use drop boxes and open absentee ballots early has expired," said Hamilton. "We have locked all drop boxes and placed announcements to remind voters they can mail in an absentee ballot or return an absentee to our office on Memorial Drive."