Testingfg of Ads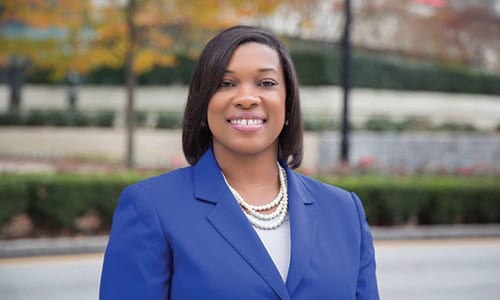 Solicitor-General Donna Coleman-Stribling announces alternative Dancing with the DeKalb Stars domestic violence awareness event 
Due to the ongoing concerns surrounding COVID-19, Dancing with the DeKalb Stars will not take place in its usual manner. Instead, DeKalb Solicitor-General Donna Coleman-Stribling announced that her office will host a donation drive to benefit Women's Resource Center to End Domestic Violence and International Women's House on Friday, Oct. 30, 4 to 7 p.m. outside of the Porter Sanford III Performing Arts and Community Center.
"It is disappointing we will not be able to gather the DeKalb community to raise awareness around domestic violence like we have done for the past three years," said Solicitor-General Coleman-Stribling. "While we recognize it is not safe to gather in the usual environment, we know there is still vital work that needs to be done. Now more than ever the Women's Resource Center and International Women's House need the support of the DeKalb community. I am excited we can lend them this support by rallying our community to donate the supplies they need."
For the past three years, Dancing with the DeKalb Stars has been a fundraiser hosted by the DeKalb County Solicitor-General benefitting the two local domestic violence non-profit organizations. The expo and fundraiser has raised over $50,000 since its inception for the two non-profits. In the past, the event included a dance competition featuring members of DeKalb County's legal, public safety, business and civic communities.
The Solicitor is asking the DeKalb community to drop off cleaning supplies, paper products and under garments of all sizes for women and children, as these are the items the two non-profits especially need. The Solicitor's office will accept all donations in front of Porter Sanford on Friday, Oct. 30, 4 to 7 p.m.