Testingfg of Ads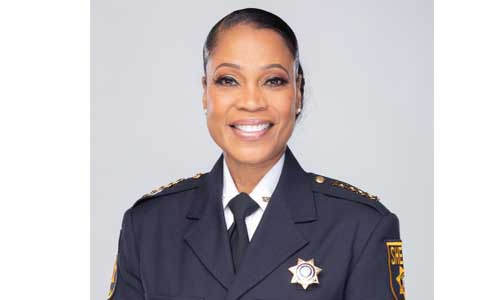 With qualifying for the DeKalb County Sheriff's special election set Jan. 6-8, the race is already heating up. The special election, scheduled March 24, is expected to draw several contestants running against Melody Maddox, who was just sworn in as sheriff on Dec. 16, 2019.
Maddox moved up as sheriff from the No. 2 position as deputy chief, an appointment made by former Sheriff Jeffrey Mann as he prepared for his exit, announcing his retirement with more than a year left to serve.
The moves set the wheels in motion for the upcoming special election, which must be held because there are more than 6 months remaining on Mann's term.
Maddox said she is ready to run. If she is successful in winning the March 24 special election to complete the rest of Mann's term through December 2020, she will then have to run in the May 19 primary to earn a full four-year term as sheriff. Maddox says she is staying focused on serving.
"My focus has not been on who else is running or how many times I must run. I'm focused on what I must continue to do for this community. I'm excited that the people are excited about my continued leadership and I'm ready to do what needs to be done," Maddox told On Common Ground News.
Several names have surfaced in the community as possible candidates who may challenge Maddox. State Rep. Vernon Jones, who represents House District 91, squashed a rumor that he was planning to run for the seat. Someone said in a Dec. 28 Facebook post that Jones was seeking the sheriff's position. Jones said the rumors started after he posted red and white Happy Holidays! signs in his district.
"I'm not running for Sheriff of DeKalb County. If someone said I am, it's fake news," said Jones. "… I enjoy serving in the Legislature and representing the people of DeKalb and Rockdale counties…, I look forward to continuing my efforts in improving transportation, economic development, and other important issues affecting the citizens of Rockdale and DeKalb counties."
Jones, who ran for sheriff in 2014 in a special election where Mann emerged the winner, said several candidates running for the upcoming special election for sheriff have asked for his support.
"I wish them all the very best," said Jones, who said he plans to seek re-election to House District 91 when the May 19 primary election is held. He said he would soon make a formal announcement about his bid. Jones has served in the House for a total of 11 years, first serving from 1993 to 2001 and then from 2017 until the present.   Jones was chief executive officer of DeKalb County from 2001 until 2009.
Ruth M. Stringer, a 27-year veteran of the DeKalb Sheriff's Office, is expected to announce her candidacy for sheriff. DeKalb Superior Court Chief Judge Courtney Johnson appointed Stringer as interim sheriff in June 2017 when Mann was suspended for 40 days after he was arrested in Atlanta park on alleged indecency charges. Several supporters have contacted On Common Ground Newsto say that Stringer is putting her name in the hat.
In the 2016, five candidates ran for the position against Mann: Michael Williams, an investigator with the district attorney's office in DeKalb; Kyle Jones, a business owner; Ted Golden, a retired special agent for the DEA; Harold Dennis, former DeKalb reserve lieutenant; and Geraldine Champion, a retired homicide detective.
Meanwhile, Maddox said she is deeply humbled and honored to serve as sheriff and she is looking forward to taking on more challenges and issues.
"I'm proud of what I've already accomplished the short time I've been in office: a 4 percent increase for officers and the retention and recruitment efforts that are underway," said Maddox.