Testingfg of Ads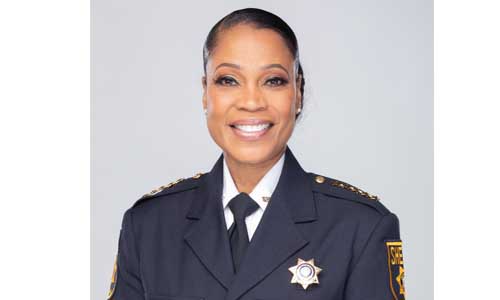 DECATUR– In a livestream news conference today (April 21), DeKalb County Sheriff Melody Maddox reported that 13 inmates have tested positive for COVID-19. Of those, eight remain in custody and are in isolation under the care of medical services.
Maddox said the confirmed cases represent 1 percent of the jail's population, which is a little over 1,200.
Maddox said there are 10 confirmed cases of COVID-19 among staff members, who are quarantined at home and/or in treatment.
"We are in touch with them and they tell us that they are doing well," she said.
Maddox said her administration has greatly limited access to the Sheriff's headquarters and jail to slow the spread of the virus, and staff members are routinely checking temperatures and following other safety measures as part of the jail's Emergency Plan of Action for managing the COVID-19 pandemic.
"All persons entering the facility, including staff members and vendors, continue to be screened for high temperatures, as a condition for access," Maddox said. "Officers conducting temperature checks are wearing safety masks. New inmates are being screened for COVID-19 symptoms prior to entering the Jail. New inmates are immediately quarantined for 21 days before being housed in the general population," Maddox added.
Maddox said other precautions include closing the on-site visitation center but offering free remote video calls; and suspension of special inmate programs and classes but continued availability of emergency information and faith-based counsel remotely.
The sheriff said the agency has been able to reduce the overall jail population by applying a judicial order to release inmates on signature bonds.
"In the past 120 days, we have released 110 inmates on signature bonds – reducing the jail population by 24 percent, she said.
In her report, she noted other precautions being implemented at the jail include:
Weekly professional cleaning and disinfecting of all occupied spaces in the facility that will continue through the second week in May.
Providing approved cleaning products for inmate use inside cells and housing units.
Requiring employees to practice social distancing throughout the facility
Providing all employees with masks and gloves.
Providing complete personal protective equipment (PPE) outfits – including surgical and N95 masks, gloves, facial shields and surgical gowns – for employees who have direct contact with inmates.
Requiring inmates to wear masks when out of cells and in the dayrooms or away from the housing unit floor.
"Last week, we received an additional shipment of 1,000 surgical masks, 500 facial shields and 1,000 N95 masks from DeKalb Emergency Management (DEMA), and we thank them for their response," Maddox said.
Maddox also addressed concerns expressed by individuals on social media regarding inmate food service during the pandemic.  She  said inmates continue to receive three meals per day that meet caloric standards for the American Correctional Association. Also, 12 special diets continue to be provided for inmates with special dietary needs. Meals are being served in disposable Styrofoam containers as an additional sanitary measure.
"Our COVID-19 Task Force meets twice weekly – sometimes more often – to learn as much as we can from health experts about the effectiveness of the actions we are taking," said Sheriff Maddox. "Our plan of action is constantly changing to include the newest approaches to containing this pandemic at our facility. We are truly doing all