Testingfg of Ads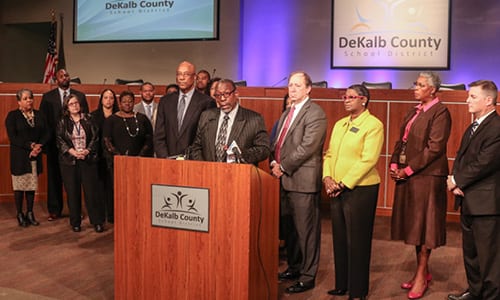 By Valerie J. Morgan and Travis Hudgons
The DeKalb County School District (DCSD) terminated seven employees for violating school district policies after nearly 400 bus drivers participated in a strike on April 19.
The district delivered termination letters to the seven employees after reviewing events leading to the "sick out." While the district does not discuss specific personnel matters, the employees were among a group found to actively support or encourage bus drivers not to report to work, officials said. The drivers want better pay and benefits. District officials say DeKalb school bus drivers earn about $19,400 annually and are among the second-highest paid school bus drivers in the state.
"We have been clear from the beginning. We will keep an open dialogue with employees provided they work collaboratively and keep our children safe by reporting to work. Unfortunately, some employees chose another route, and that carries serious consequences," said Superintendent R. Stephen Green. "The DeKalb County School District does not compromise when it comes to student safety."
Green said during a press conference held on the morning of the strike that he did not know if  any students were stranded at bus stops as a result of the sickout . He warned, however, that bus drivers who did not have a doctor's excuse would be punished.
"Your actions will have consequences, and there will be repercussions for putting our children  in harms way, said Green. "For every day missed due to the sickout, I'm requiring a doctor's note to validate that absence."
Meanwhile, some students apparently were left stranded. Ed Williams, a watchdog in South DeKalb,  said he took a young boy to Bethune Middle School after the child walked to his mother's job at McDonald's to tell her that the school bus never showed up in their neighborhood.  Williams said he overheard the conversation and offered to take the child to school.
"There were people in the McDonald's who knew me. I gave her my card and drove the little boy to Bethune Middle School. I went inside the school to make sure school officials knew that I was bringing him there," said Williams.
Williams said he was outraged over the bus driver strike.
"The adults need to sit down at the table and come to an agreement," Williams said. "Our students should not be the ones who are punished," Green said.
According to the school system, 383 bus drivers did not report to work April 19, which is 42 percent of the district's 908 bus drivers.
Parents were notified of the driver shortage via text, email and robo-calls; leaving many parents frazzled as they sought alternative transportation.
The county provides bus service for approximately 66,500 students to 180 schools and centers. Substitute drivers were used to help cover the 899 routes. Additionally, the county received drivers from City Schools of Decatur and third-party vendors.
Green applauded and thanked the bus drivers who came to work Thursday morning, saying that some drivers were threatened by their peers.
"You demonstrated that you felt it was a higher priority than a list of demands that you be here for our children and not put them in harms way, he said. You have shown the district good faith by addressing your concerns without sacrificing your duty."
Green said that he met with more than 300 bus driver on April 18 to listen to their concerns over pay, benefits and retirement. Green told reporters he is committed to addressing those concerns.
Parents are encouraged to stay informed with the district through robo-calls, text messages, the district's web site (http://www.dekalbschoolsga.org/) and news reports. Parents should discretion as to whether to provide their own transportation for their students.
The district is working with other local school systems and firms that provide temporary drivers to ensure safe and effective travel for students. Some buses, Green said, may arrive and pick up a little later than usual.
There will be no consequences to students scheduled to take the Georgia Milestones and arrive late as a result of bus transportation issues. The District will work to find time for students to take the test.
For transportation questions pertaining to a late or missed bus, please call 678-676-1200 during normal business hours.