Testingfg of Ads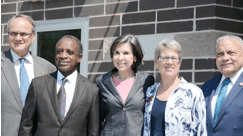 Susan Neugent was recently recognized by Commissioner Kathie Gannon and Commissioner Jeff Rader with a dedication ceremony for the formal naming of the DeKalb County Animal Shelter's Pet Adoption Center, in her honor. Family and friends joined DeKalb County CEO Michael Thurmond, CEO and Founder of Lifeline Animal Project, Rebecca Guinn, Public Safety Director, Jack Lumpkin, and Animal Service Advisory Board Chair, Sonali Saindane to share this special occasion.
"Before the Animal Services Advisory Board was formed and the new animal shelter was built by DeKalb taxpayers, hundreds of dogs and cats were euthanized," said Commissioner Kathie Gannon, "DeKalb County, through its partnership with Lifeline operates a "no kill" shelter and even though we can't save every animal, we save over 90%, and this credit belongs to DeKalb County, Lifeline Animal Project, Animal Services Advisory Board, and the leadership pf Susan Neugent, who chaired the effort to build a new shelter."
The Board of Commission approved naming the adoption center of the Animal Services building in Susan Neugent 's name in recognition of her impactful leadership as a volunteer and help to build consensus across the County on how Animal Services could be improved.
Visit www.lifelineanimal.org/shelters/dcas for information about DeKalb County animal services and how you can help by adopting, fostering, or volunteering.