Testingfg of Ads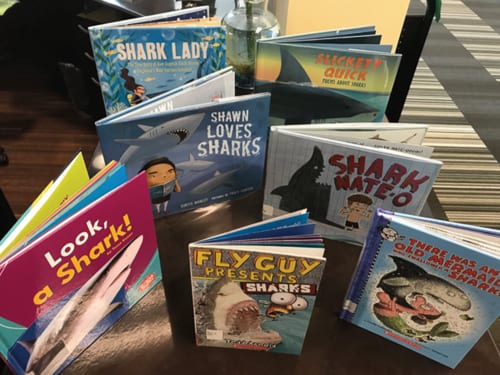 Sharkweek 2018 at DeKalb County Public LibraryDeKalb County's Public Library (DCPL) system will receive double honors as Georgia's Public Library of the Year. DCPL is being recognized for offering public programming that embraces the county's diverse community.
The Georgia Public Library Service will present an award to DCPL on Jan. 31, 6:30 p.m., at the Decatur Library's auditorium, the main branch, located a 215 Sycamore St.
    DCPL also will be honored during the Georgia Council for Public
Libraries' annual Public Library Day at the Georgia State Capital on Feb. 13. The ceremony is set for  2:30 p.m.
      "We are pleased to present our Georgia Public Library Awards to people and places that daily champion libraries across the state," said State Librarian Julie Walker. "Their efforts to show that
libraries are the heart of their communities, where people can achieve their goals at any stage in life, has made a meaningful difference to many."
DeKalb CEO Michael Thurmond praised the public library system for setting exemplary leadership.
"DeKalb County is extremely proud of our public library system and the critical role it plays in promoting lifelong learning," Thurmond said. "Under the outstanding leadership of the Library Board of Trustees, Library Director Alison Weissinger and her staff, the county provides exceptional services, programs and resources to our residents."  
In 2018, the DeKalb County Board of Commissioners approved Thurmond's budget increasing funding for libraries by $2.2 million. County leadership also raised the minimum wage to $14 an hour, affecting 90 library employees.
"DeKalb County Public Library is a system of individual library locations serving diverse interests and needs," said Director Weissinger. "We created the Read More Campaign to coalesce all 22 library locations under a common goal of promotion, outreach and unity."
The campaign included promotional items such as Read More staff T-shirts, car magnets and signage, as well as integrated outreach efforts. The slogan "Read More. Think More. Play More. Make More. Get More." highlights the many ways the community can engage with the library.
Additional innovative efforts included:
PRIME TIME Preschool

: Introduced children ages 3-4 to literature through storytelling techniques and playtime led by trained facilitators.

Fine Free Summer:

 Exempted all overdue juvenile materials from overdue fees from June to September 2018. The program encouraged parents and children to check out books to prevent summer learning loss.

Human Library Project:

Involved human "books" sharing life experiences with participants in one-on-one conversations.
DeKalb County Public Library also hosts the Georgia Center for the Book, one of the library's most visible and popular programs. The program was created to preserve Georgia's rich literary heritage by providing free author talks and sponsoring other literary engagement events such as the annual list of 10 Books All Georgians Should Read and the Book as Art exhibits.
The Public Library of the Year Award is one of five annual Georgia Public Library awards, honoring the outstanding service and achievements of Georgia's public libraries, librarians and advocates during the past year.