Testingfg of Ads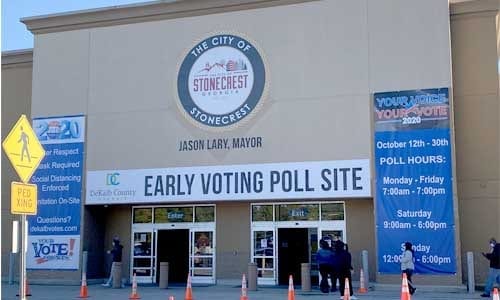 STONECREST—DeKalb Voter Registration and Elections (DeKalb VRE) is conducting the electronic recount of more than 373,000 ballots to meet the statewide mandated deadline by Dec. 2, 2020.
The recount is underway at the future Stonecrest City Hall (former Sam's Club), 2929 Turner Hill Road. The site is one of the county's largest early voting precincts.
"We're planning on deploying a recount plan that looks very similar to the recent risk-limiting audit," said DeKalb VRE Director Erica Hamilton. "We're engaging the same partners, county departments and others to ensure we're able to once again maintain the integrity of the process."
DeKalb VRE is again partnering with the DeKalb County Board of Health to implement best practices and guidelines to keep everyone involved in the recount as safe as possible. Personal protective equipment has been provided, and the facility is set up to accommodate social distancing.
"Once again, all eyes are on Georgia and we're just as committed to the voters of DeKalb County as we have been throughout this entire election. We'll conduct the recount with the same safety protocols, integrity, and transparency as the risk-limiting audit. You can count on DeKalb County," Hamilton said.
Approximately 100 personnel will work to batch and scan ballots throughout the recount. DeKalb VRE will adjust staffing levels and schedules as needed.
 "We only have nine scanners available to use for this recount effort, so we are having to be creative with our staffing and resources," said Hamilton. "When you add in a pair of runoffs and a major holiday taking place at the same time, we are stretched thin to accomplish the recount by the designated timeline. We have moved swiftly to ask the Secretary of State for additional scanners to help us accomplish the recount."
DeKalb County Television 23 (DCTV23) is livestreaming the recount process here.
The recount began on Tuesday, Nov. 24.  DeKalb VRE has scheduled the recount to continue on the following dates and times:
Wednesday, Nov. 25, 2020           7 a.m. – 9 p.m.
Friday, Nov. 27, 2020                      7 a.m. – 9 p.m.
Saturday, Nov. 28, 2020                 7 a.m. – 9 p.m.
Sunday, Nov. 29, 2020                   7 a.m. – 9 p.m.
Monday, Nov. 30, 2020                   7 a.m. – 9 p.m.
Wednesday, Dec. 2, 2020             7 a.m. – until completion
DeKalb VRE will consider modifying the outlined recount scheduling to ensure completion of the recount efforts in accordance with guidelines outlined by the Georgia Secretary of State. All changes to the proposed recount scheduling will be posted on the DeKalbVotes.com website in advance.