Testingfg of Ads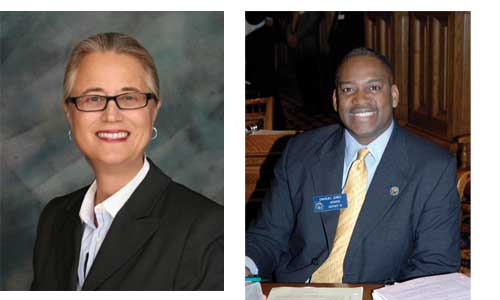 State Rep. Karla Drenner and State Sen. Emanuel Jones
Members of the DeKalb County Legislative Delegation, co-chaired by State Rep. Karla Drenner (D-Avondale Estates) and State Sen. Emanuel Jones (D-Decatur), will hold a press conference to discuss Unemployment Insurance (UI) benefits. The news conference will be held on Monday, Aug. 10, 10 – 11 a.m., at the Georgia Department of Labor parking lot, 774 Jordan Lane, Decatur.
At the event, speakers will include members of the DeKalb County Legislative Delegation and Teresa Hardy, President of the NAACP DeKalb County Branch.
DeKalb delegation members and other state legislators are calling on Georgia Department of Labor Commissioner Mark Butler to take action to process backlog, train and hire staff to investigate and resolve claims, as well as to establish and staff an emergency call center for customer service questions.
This press conference is a part of a weeklong series of press conferences that are taking place across the state to address this issue.
For more information about the other press conferences, please click here.