Testingfg of Ads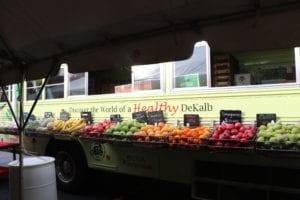 Spring is here, which means fresh fruits, vegetables and the Mobile Farmers Market.  DeKalb County, along with DeKalb County Extension and the DeKalb County Board of Health, announce the kick-off of the 2016 Mobile Farmers Market season.
A festival-style event will kic -off the new Mobile Farmers Market season on Thursday, May 26, noon to 5 p.m., 4380 Memorial Drive, Decatur.  Chefs will be on site providing food demonstrations and samples.  All produce is 50 percent off during the event. BOOM 102.9 and Praise 102.5 will be broadcasting live with DJ Nabs and Veda Howard.
The DeKalb Board of Health is providing grant funding for the mobile market through the LEAD DeKalb Program. This program is funded by the Centers for Disease Control and Prevention's (CDC) Racial and Ethnic Approaches to Community Health (REACH) initiative.  REACH promotes healthy eating and physical activity and helps improve health and reduce health disparities among DeKalb County residents.
Through a partnership of The University of Georgia, the U. S. Department of Agriculture and DeKalb County Government, DeKalb County Extension offers lifelong learning opportunities to residents through unbiased, research-based education in horticulture, the environment, communities, youth and families.
For more information on the Mobile Farmers Market, visit DeKalbmobilemarket.com or call 404-298-4080.