Testingfg of Ads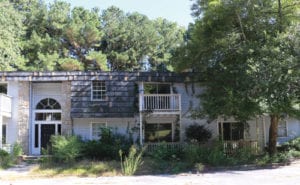 A DeKalb County judge has issued a bench warrant for the owner of Creekside Forest Apartments, a Decatur complex cited with more than 200 code violations.
Chester Meisel, owner of the apartment complex, failed to appear in a DeKalb County courtroom on Tuesday, Sept. 27, for a scheduled appearance. As a result, Magistrate Court Judge Matthew J. McCoyd issued a bench warrant of $338,000.
"This bench warrant is a huge step in the right direction as we work to rectify the Creekside Apartment situation and others," said Interim CEO Lee May. "We are serious about holding those accountable who habitually violate our codes."
Meisel has more than 200 citations in connection to the property off Ember Drive. On July 27, code enforcement officers found dozens of violations including abandoned buildings, water leaks, bed buds, rodents and trash littering the community. Code enforcement issued Meisel 228 citations.
Inspectors with DeKalb County Fire Rescue also made a visit to the community on Sept. 7. Officers said they discovered waste, nonworking emergency signs and fire alarms and sprinklers in disrepair.
DeKalb County Commissioner Larry Johnson said the court ruling is a step in the right direction.
"We want to continue making code enforcement and public safety a priority," said Johnson. "We will also continue to collaborate and build strong partnerships as we work to help these families improve their living conditions."