Testingfg of Ads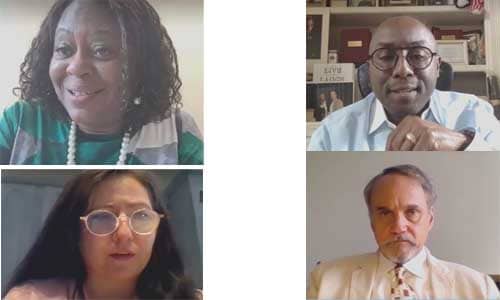 Pictured: (Top L-R)Commissioners Mereda Davis Johnson and Larry Johnson
Pictured: (Bottom L-R) Commissioners Nancy Jester and Jeff Rader 

DeKalb County Commissioner Larry Johnson introduces racism resolution. Debate begins at 20:26.
The racial conflict between blacks and whites was illuminated last week as DeKalb County District 3 Commissioner Larry Johnson introduced a proposed resolution to declare "racism a public health crisis."
Commissioners Larry Johnson and Mereda Davis Johnson, who are black and are not related, squared off in a heated exchange with Commissioners Jeff Rader and Nancy Jester, who are white, during the Employee Relations and Public Safety Committee (EARPS) meeting on July 8, where Larry Johnson presented the proposal to four of his colleagues.
The proposal, which the four commissioners eventually agreed to support, will come before the full DeKalb County Board of Commissioners for a vote on Tuesday, July 14.
Johnson said the racism resolution is part of a movement sweeping the nation to address disparities in healthcare, housing, education and discrimination against African Americans. DeKalb County, which has over 700,000 residents, is comprised of a population that is 54.0 percent African American, 34.6 percent white, and 11.4 percent other races.
"It's an opportunity for DeKalb to lead the way and be one of the first counties to do it and also give our state and our region the opportunity to be a part of something like this," said Johnson, pointing out that Columbus, Ohio, which has a 70 percent white population, had adopted a similar resolution.
The conversation, however, turned negative after Commissioners Rader and Jester said they would support the resolution, but only if it included a definition of "people of color" to broadly recognize DeKalb's diverse population. The amendment, made by Rader, irked Commissioner Larry Johnson.
Johnson said such a clause would dilute the point of the resolution—to acknowledge that African Americans have been systematically discriminated against since 1619 when they were brought to this country and enslaved.
"I think it dilutes the message. Right now, we're dealing with racism against African Americans…  First, you have to acknowledge the people who were enslaved… If you keep trying to dilute it, then you never resolve the problem," said Commissioner Larry Johnson, pointing out that the county's recent removal of a Confederate monument in downtown Decatur would remain merely "symbolism" with no real resolution to white supremacy and discrimination against blacks.
"I just think it would be helpful to define that term so that we can recognize that also. I just think that it is expandable," said Rader. "There's no reason for this to be a divisive issue."
Rader had made an amended motion after DeKalb County Commissioner Mereda Davis Johnson's motion to support Commissioner Larry Johnson failed for lack of a second.
Commissioner Mereda Davis Johnson said she concurred with Larry Johnson, adding that removing the emphasis away from Black Americans would dilute the resolution.
"Larry, I identify, I understand exactly where you're coming from," Commissioner Mereda Davis Johnson said. "It's the same or very similar when people say Black Lives Matter…We are not dismissing that other lives do not matter because all lives matter. But there is a distinction when black lives– through history– has been brutalized and killed by certain officers and it continues to be done now…
Commissioner Jester sided with Commissioner Rader, saying that a clause defining "people of color" would enhance the resolution. 
Said Jester: "I don't think it dilutes the message at all, " said Jester. "As a representative, I have an obligation to understand from the Asian American experience, from the Hispanic American experience, from the refugee community's experience… Racism, to me, is a broader issue than just one race."
Commissioner Steve Bradshaw stepped in to break up the debate, saying he was ready to support the motion that was initially put on the table by Commissioner Mereda Davis Johnson.  Rader followed suit and seconded the motion, but angered Commissioner Larry Johnson with another comment:
"I will second your motion, Commissioner Davis Johnson, because obviously, there's not a lot of room for improvement," Rader said.
"Did you see that? You see what I mean?" Johnson said.