Testingfg of Ads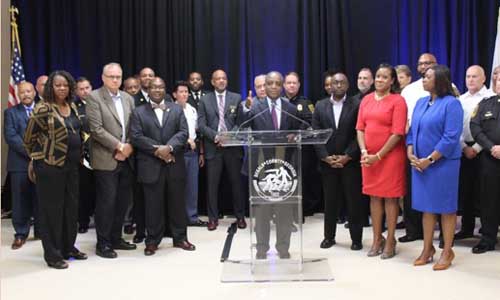 Four percent across-the-board raise valued at $7.1 million
Today, DeKalb County CEO Michael Thurmond recommended to the county Board of Commissioners a four-percent public safety salary increase, effective the first pay period in November 2018. The total value of the proposed compensation increase is $7.1 million. 
"DeKalb County is committed to ensuring that our community is safe," said CEO Thurmond. "The county is taking a holistic approach to increase compensation for the men and women that play a critical role in protecting and serving DeKalb."  
The increase will apply to approximately 2,100 employees including police officers, firefighters, E-911 employees, medical examiner investigators, County Marshal's Office deputies, State Court probation officers, District Attorney investigators, Solicitor-General investigators, Sheriff's deputies, animal services officers and DeKalb Emergency Management Agency employees. 
The county's significant investments in recruitment, retention and compensation have helped the county to overcome staffing challenges and relieve critical public safety shortages. The attrition rates in the police, fire rescue and E-911 departments have decreased. The E-911 department is fully staffed with 126 employees and staffing in police and fire rescue is the highest in several years.  
The proposal is also part of a series of significant public safety investments since 2017, including technology upgrades to the E-911 software system, new vehicles for police and rapid response vehicles for fire. 
The Board of Commissioners is scheduled to vote on the proposal at its Oct. 23 meeting. 
Alleged gang members to stand trial for home invasion 
baby killed, three others injured 
Jury selection is underway in the murder trial against two alleged members of the Sex, Money, Murder gang and their reputed leader for a deadly home invasion in Stone Mountain that claimed the life of a baby.
Kenneth Jackson, Christopher Antonio Florence, and Marco Fernando Watson are charged with Murder, Felony Murder, Aggravated Assault, Violation of the Street Gang Terrorism and Prevention Act, and weapons offenses in connection with the murder of 9-month old Kendarious Edwards. 
The incident happened on May 10, 2014 at the Lani Farm Road home of the victim's grandmother. Armed gunmen stormed the home with weapons drawn. The child's mother, grandmother, and another woman who was visiting the home, ran to a bathroom and hid inside of a bathtub while trying to shield the child. The suspects opened fire, striking the women and the baby multiple times. The victims were transported to the hospital. Baby Kendarious later died as a result of his injuries. The women were wounded, but survived, as did a teen girl who escaped the gunfire by hiding in a closet. She called 911 for assistance.
The case is being tried by the Major Case Unit before DeKalb Superior Court Judge Gregory A. Adams.