Testingfg of Ads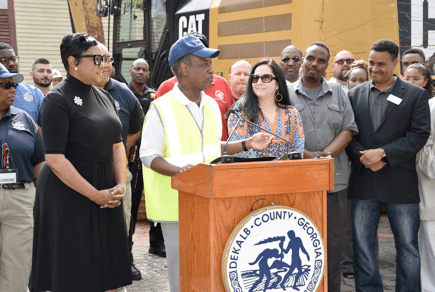 DeKalb County is continuing its efforts to fight blight at Brannon Hill Condominiums. Demolition crews recently wiped out 56 dilapidated and neglected units .
The dilapidated condos, located near Memorial Drive and the city of Clarkston, became a haven for crime, squatters and gangs for more than a decade after repeated fires ravaged buildings and owners abandoned the properties.
In 2017, DeKalb County stepped in to declare the property unsafe and a public nuisance.  DeKalb County CEO Michael Thurmond enhanced the county's blight fighting initiatives to address derelict properties at Brannon Hill and throughout  the county.
To date, DeKalb County has demolished 124 units at Brannon Hill, removing debris and addressing public safety needs at the site.
Pictured are DeKalb CEO Michael Thurmond, Commissioner Lorraine Cochran-Johnson,
Commissioner Nancy Jester, county staff and residents
at Brannon Hill demolition.
"DeKalb's continued efforts to stabilize the Brannon Hill community sends a powerful message that eliminating blight remains a top priority," Thurmond said during a news conference at the site on May 9. "The county has established a process that focuses on improving quality of life and mitigating negative impacts such as increased crime and health risks."