Testingfg of Ads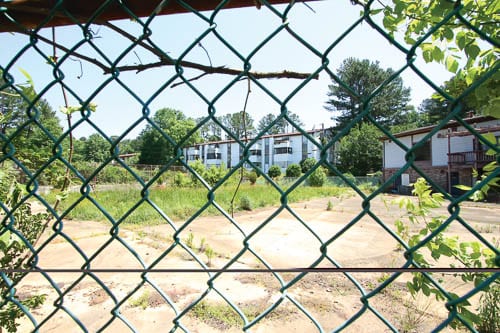 DeKalb County demolished 17 single-family homes in 2017 in its targeted effort to wipe out blight from communities that have been plagued for years.
In addition to demolishing single-family homes, DeKalb tore down four dilapidated buildings containing 68 units at the notorious Brannon Hill condominiums.
Now, the county plans to seek court approval to raze another four buildings and stabilize a large sinkhole in the condominium complex.
"DeKalb citizens deserve to live in safe and healthy communities, and in 2017, we made fighting blight a priority by funding initiatives and collaborating with key partners and agencies," said DeKalb CEO Michael Thurmond. "There is not just one fix to rid a community of blight, and we will continue our progress to improve the county's neighborhoods."
In order to remediate blight on private property, DeKalb must first receive a court order issuing permission to proceed.
In 2017, DeKalb Magistrate Court and the Solicitor-General's office stepped up their blight-fighting initiatives. The Magistrate's Court Ordinance Division implemented a calendar to target dilapidated properties with numerous code citations once a month, allowing the county to take action on properties not returned to code per court order.
In the 2017 midyear budget, Thurmond proposed and the Board of Commissioners approved to redirect $70,000 to fund additional staff and training in the solicitor-general's office. As a result, Solicitor-General Donna Coleman-Stribling formed the Quality of Life Unit, which is responsible for the prosecution of all cases involving code violations, blight, nuisance and other issues plaguing communities.