Testingfg of Ads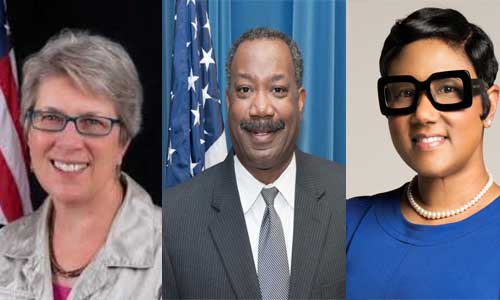 DeKalb County's Board of  Commissioners, Kathie Gannon, Steve Bradshaw, Lorraine Cochran-Johnson
DeKalb County's Board of  Commissioners introduced a resolution on Dec. 17 urging the DeKalb Delegation to adopt the same Ethics Code previously approved by voters with one substantive change to the appointment process. The measure was introduced by Super District 6 Commissioner Kathie Gannon, District 4 Commissioner Steve Bradshaw and Super District 7 Commissioner Lorraine Cochran-Johnson.
"We call this Model Ethics Code II," said Gannon. "It's almost identical to the current code with voter's 92 percent approval of House Bill 597, DeKalb Ethics Board Reform Bill, passed in 2015. DeKalb voters have spoken loudly and clearly. They want a strong ethics code."
Who serves on the Board of Ethics and who appoints the Board of Ethics is critically important. The proposed code calls for the same group of community organizations to recommend citizens to serve on the Board of Ethics. However, the Georgia Supreme Court has ruled that only elected officials can make the appointments. Therefore, the appointments must be made by elected officials.
"We call on the DeKalb Delegation to simply change the appointment process and make no other substantive changes. This is an easy fix that can be accomplished within a few days of the upcoming session," said Cochran-Johnson.
The ethics code currently calls for appointments by the Chief Judge of Superior Court, the Chief Judge of Probate Court, and the DeKalb Delegation. The one substantive change the resolution calls for would add appointments by the Chief Judge of State Court, the Chief Judge of Magistrate Court, the DeKalb Tax Commissioner, and another appointment by the DeKalb Delegation.
"We've gone long enough without a functioning Board of Ethics. I look forward to working on passage of this ethics code with the DeKalb Delegation and citizen organizations across DeKalb County," said Bradshaw.