Testingfg of Ads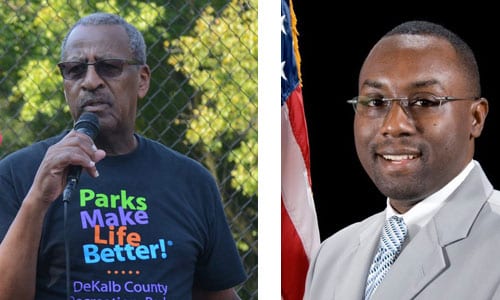 The DeKalb County Board of Commissioners unanimously approved spending up to $500,000 for the preliminary design-build phase of an amphitheater at Rainbow Park on Rainbow Drive in South DeKalb.
The outdoor facility will complement the existing Porter Sanford III Performing Arts and Center and auditorium, also located on Rainbow Drive. The site was formerly part of the historic Mathis Dairy farm, which was well known for providing dairy tours to school children who milked Rosebud, the cow, during their visit. The farm was eventually sold in 1995 and residential subdivisions were built on most of the land.
"This is an exciting time for District 3 as this will go a long way to attract good events to the district and bring added value to the properties around the area," said Commissioner Larry Johnson who represents the district.
This infrastructural investment, to be paid for with District 3 park bond funds, is the beginning of a comprehensive development plan for the 20 acres of land around the park.
The amphitheater will be located with access to I-20 and I-285, making it an ideal venue for events and concerts with a capacity of approximately 1,000 guests, county officials said.
Marvin Billups, interim director of the Department of Recreation, Parks and Cultural Affairs, said the amphitheater would improve the quality of life for county residents.
"We intend to involve the public in the development of this project from start to finish," Billups said. "The overall goal is to create a path that will connect all these facilities around the Rainbow Park area to increase and encourage usability by citizens."
ASTRA Group Inc. will begin the design phase of the project, which is expected to be completed within 180 days. A notice to proceed from the county's Purchasing and Contracting Department will then follow once all due diligence is complete.