Testingfg of Ads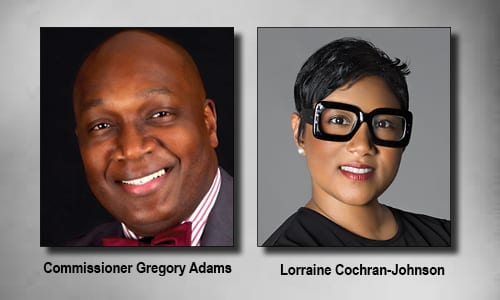 With only a few weeks away from the July 24 runoff elections, DeKalb County Commissioner Gregory Adams says he has had enough of the "vicious lies" circulating about him.
 "I didn't run for office to be picked on, to be criticized, to be mocked, or to be humiliated," Adams said during an emotional nearly three-minute outpouring at the end of the Board of Commissioners' June 12 meeting.
Adams didn't say during the meeting who was attacking him. He elaborated the next day, leveling accusations at Lorraine Cochran-Johnson, who is challenging him for the District 7 Commission seat. Adams said during an interview with On Common Ground News that campaign material bearing Cochran-Johnson's name stated he sexually harassed his former district director, Ashlee Wright, which he denies.  
 "The love and respect I have for people is very high. I have never disrespected a woman, and I never will," said Adams, who said he could never victimize anyone because he was a victim himself. He said a fellow soldier sexually assaulted while serving in the military.
"I live with this everyday of my life," said Adams.
On Common Ground News attempted to speak with Cochran-Johnson about Adams' assertions of a smear campaign and to get her side of the story. Cochran-Johnson said she was teaching a class but said that she never sent a mailer about Adams. She asked that the material be sent to her and for the paper to call back in 45 minutes. Then the paper sent her a text of the material, which was followed by a text  requesting to discuss the material. Another call was made, but no answer. A second attempt via text was sent to discuss the matter. Cochran-Johnson sent a text back stating that she was "walking into an interview" and that Roz Edward would be responding, but On Common Ground News did not hear from Edward by press time.
Meanwhile, Attorney Robert James, who is representing Wright, said the county's sexual harassment investigation concerning Adams speaks for itself.
"DeKalb County determined that he violated the county's sexual harassment policy, after they did a full investigation," said James, adding that his law firm is awaiting pending litigation with the Equal Employment Opportunity Commission (EEOC) concerning the case.
James said in addition to the sexual harassment case against Adams, Wright is suing Adams and his wife, Jacqueline, for slander toward his client.
Amos King, who heads Justice for Veterans, said Adams' pending litigation is not his concern, and he doesn't think it should be Johnson's concern either.
"That will work itself out," King said, referring to the pending litigation. " I live in Commissioner Adams' district and I think he's done a good job. He stood with us in the case of Anthony Hill and he has supported other things in the community. I want to know what she (Johnson) plans to do. That's what we need to stay focused on."