Testingfg of Ads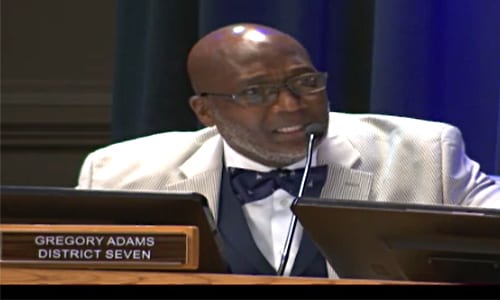 By Travis Hudgons
At today's Board of Commissioners' meeting, DeKalb County Commissioner Gregory Adams refuted the "vicious lies" he said are circulating about him during an emotional outpouring.
"I didn't run for office to be picked on, to be criticized, to be mocked, or to be humiliated," said Adams, fighting back tears as he spoke. "The love and respect I have for people is very high. I have never disrespected a woman, and I never will."
Although Adams did not elaborate on the "lies," he is facing a civil suit as he prepares for a runoff f against Lorraine Cochran-Johnson for the Super District 7 seat. Ashlee Wright, his former district director, has accused him of sexual harassment.
Wright is seeking $750,000 from the county government to settle her claims outside of court, according to a letter from her attorneys.
A DeKalb County internal investigation found Adams had engaged in actions that were considered sexual harassment as defined by the county's non-discrimination and anti-harassment policy.
But Adams denied any wrongdoing during his comments, which lasted about three minutes. The comments came at the end of the commissioners' meeting. Each commissioner had reported on events happening in his or her district. Adams was the last one to speak and his comments took quite a different turn after he thanked voters for their support in the May 22 elections and his wife for supporting him and standing by him during their 33 years of marriage.
Adams expressed his sympathy for women who have been sexually assaulted, saying that he, himself, was sexually assaulted by a fellow soldier.
"I live with this every day of my life," said Adams.
Adams said that 83% of military men do not document their sexual assault. He said it took him almost 30 years to speak of his assault.
Additionally, Adams said that he is hurt that people would try to "exploit and extort" him for their own personal gain. Saying that "vicious lies" on his character were being told and he thanked his wife of 33 years for standing by him and her support.
"I didn't join the commission for nobody to try to tell lies on me…. I love what I do, and love serving the people of DeKalb County—but enough is enough," said Adams.
Jacqueline Adams applauded her husband at the end of his comments. No one made any comments and the meeting was adjourned.