Testingfg of Ads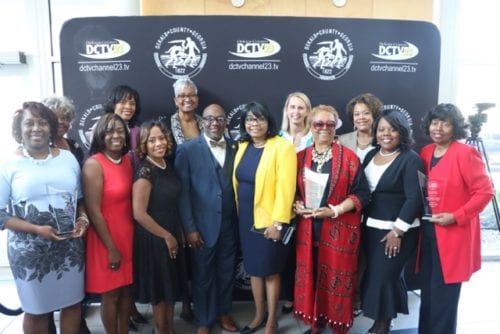 The movie, "Hidden Figures," isn't just a movie on the big screen. It's the inspiration for DeKalb County Commissioner Gregory Adams first awards program. The new commissioner honored 18 female trailblazers at his inaugural Hidden Figures of DeKalb" awards luncheon on March 23 at the Porter Sanford III Performing Arts and Community Center in Decatur. Adams was joined by DeKalb CEO Michael Thurmond, DeKalb Commissioners Larry Johnson, Jeff Rader, Steve Bradshaw and actress Kim Fields (sitcom "Living Single" and "The Facts of Life.") in presenting the awards during Women's History Month.
"It was such a great program. I am so humbled to be celebrated among women who have made such an impact on our community. I thank Commissioner Adams and all of those who worked so hard to make the event successful," said On Common Ground News Editor Valerie J. Morgan, who was among the "Hidden Figures" honored.
DeKalb's former first lady, Philippa Ellis, received the "Woman of Strength Award." Her husband, former DeKalb CEO Burrell Ellis was cleared of corruption charges after a four-year battle that included two trials, an eight-month prison sentence and winning an appeal.
Steen Miles, politician and journalist, also received a special tribute. She was honored with a page in the program as the" 2017 Hidden Figure Spotlight." Miles, who is recovering from cancer, was unable to attend the luncheon.
"I believe Steen Miles is one of the original Hidden Figures. I wanted to make sure she was honored. It was really her idea to do something on this level," said Angela Moore, who helped coordinate the program. "I mentioned it to Commissioner Adams and his wife and we just ran with it."
Adams also honored his wife, Jacqueline, for her hard work, dedication and commitment.
Adams stated the Hidden Figures of DeKalb awards program was a chance to honor women who have aided in making DeKalb County successful and for the public to "meet women you don't know who are behind the missions that you do."
The movie is based on the non-fiction book by Margot Lee Shetterly about African American mathematicians who worked at the National Aeronautics and Space Administration (NAASA) during the Space Race.
Serenity Lemons, 14, and the Lou Walker Seniors Dancers performed during the program.
Here are the 2017 Hidden Figures of DeKalb:
Nadine Ali
Carrie Briscoe
Carleen Cumberbatch
Debra DeBerry
Philippa Ellis
Xernia Fortson
Janel Green
Dr. Cynthia Hale
Teresa Hardy
Tracy Hutchison
Anne Lerner
Dionne McGee
Valerie J. Morgan
Jennifer Parker
Lena Render
Kelsi Queen-Robinson
Katerina Taylor
Myra Surratt-Walters