Testingfg of Ads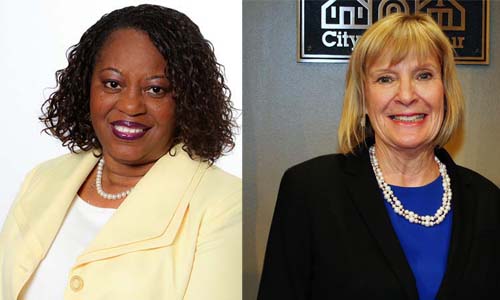 Commissioner Mereda Davis Johnson   and Decatur Mayor Patti Garrett
DeKalb County District 5 Commissioner Mereda Davis Johnson and Decatur Mayor Patti Garrett signed a joint declaration on Aug. 21 forming the John Lewis Commemorative Task Force.
The task force will have six months to make a recommendation as to the best way to commemorate the life of the late Congressman Lewis in DeKalb County. The task force will hold its first meeting on Aug. 26.
"John was a giant of a man, with a humble heart. He met no strangers and he truly was a man who loved the people and who loved his country, which he represented very well. He deserves this honor," Commissioner Davis Johnson said.
"What an honor it was to join Commissioner Mereda Davis Johnson to sign the declaration establishing the John Lewis Commemorative Task Force," Mayor Garrett said. "John Lewis was an inspiration and voice of hope for all and his legacy lives on to instill a vigilant expectant hope to this generation of young advocates of good trouble."
Members were appointed by Commissioner Davis Johnson, Mayor Garrett and Commissioner Steve Bradshaw, presiding officer of DeKalb County Board of Commissioners.
The members, who represent a diverse intersection of various sectors of the county, include:
Commissioner Mereda Davis Johnson, ex officio
DeKalb County Commissioner Jeff Rader, ex officio
DeKalb County Commissioner Steve Bradshaw, ex officio
Decatur Mayor Patti Garrett
Attorney Juanita Powell Baranco
Former DeKalb County CEO Burrell Ellis
Decatur Commissioner George Dusenbury
Former DeKalb County Commissioner Gail Waldorff
Mrs. Heather Fenton
Attorney Brian Werthiem
Ms. Audrey Maloof
Ms. Teresa Hardy
Mr. Eric Ellis
Avondale Estates Mayor Jonathan Elmore
Attorney Mawuli Davis
Rev. Dr. Emory Berry
Ms. Jan Selman
Dr. Thomas L. Coleman
Dr. Ed. Lee III
Mrs. Karima Jones
Ms. Melissa Carlson Forgey
Dr. Sharon Hill
Mr. William Cook
Ms. Sherry King
Angie Macon