Testingfg of Ads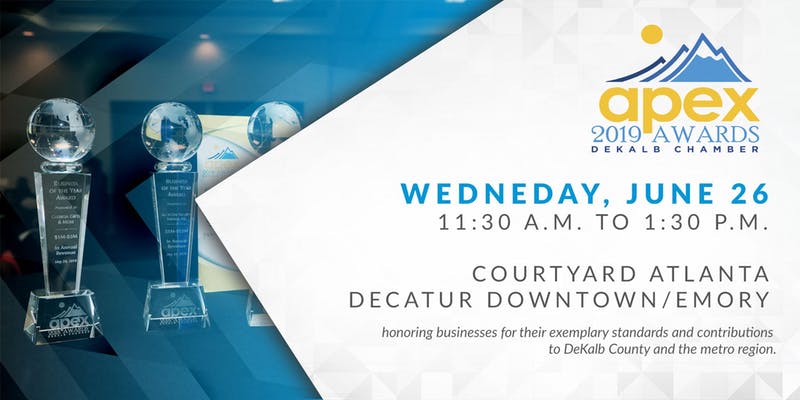 The DeKalb Chamber of Commerce will honor eight local businesses at its 2019 APEX Awards on June 26, 11:30 a.m. to 1:30 p.m., at the Courtyard by Marriott Atlanta Decatur Downtown/Emory, 130 Clairemont Ave., Decatur.
The awards luncheon recognizes businesses for their exemplary standards and contributions to DeKalb County and the metro Atlanta region.
"Every day our DeKalb businesses play a role in strengthening our workforce and stimulating the economy," said Katerina Taylor, DeKalb Chamber President and CEO. "The APEX Awards is our way to thank these businesses for choosing to make a difference in DeKalb."
The following awards will be presented: Business of the Year ($1 to 5, $5 to 10, and $10 million and up revenue categories); Emerging Business; Business Advocacy; Nonprofit (small and large organization); and Youth Entrepreneur.
During the event, DeKalb Chamber will feature a keynote panel focused on overcoming barriers to entrepreneurship. The women's business panel includes Eva Jane Bunkley, creator of The Makeup Bullet; Veronica Maldonado-Torres, principal of VMT Consulting; Katherine Morales, president/founder of Inflection Point Communications; and Zulma Lopez, immigration attorney of Lopez Immigration LLC.
Ebonie Carzo, of Food Network's "Wedding Cake Championship" and owner of Scrumptious Cakery in Decatur, will serve as the emcee and moderator.
Tickets to attend the awards luncheon are $60 for Chamber members and $75 for nonmembers and guests. For more information and to register, please visit bit.ly/2019ApexAwards.