Testingfg of Ads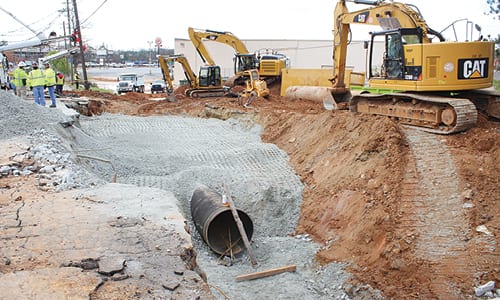 As crews worked around the clock to repair a 60-foot-long section of a water main break, DeKalb County CEO Michael Thurmond announced that a full-scale investigation would be conducted to determine the cause of the massive break on March 7.
Thurmond said he learned around 5:30 a.m. that day about the break. Officials said a 48-inch-wide water main, one of four major mains in the county, broke at 5718 Buford Highway in Doraville, wreaking havoc. In some places, the water pressure dropped so low that toilets couldn't be flushed. Schools and colleges were shut down, along with government offices and businesses. Non-emergency surgeries also were canceled during the crisis.
Officials issued a boil water advisory. They said at On Common Ground News' press deadline on March 8, the advisory would remain in effect until tests results deem the water system is safe to use.
Reggie Wells, assistant director of DeKalb County Watershed Management, said damage to a sewer may have collapsed and caused the main to break, flooding Buford Highway and other streets in the area.  Wells stepped up to handle the crisis after Scott Towler resigned as director of Watershed Management, alleging retaliatory actions in response to his refusal to violate laws.
DeKalb's CEO responded with a statement on March 7, saying in part "Mr. Towler's resignation letter, accepted on March 6, contained baseless allegations of unspecified violations of law and unlawful activities in the operation of the DeKalb County Department of Watershed Management. Mr. Towler is a disgruntled employee who has made a series of slanderous statements about county leadership that contradict verifiable and documented progress in addressing long-festering issues with the DeKalb Department of Watershed Management. "
DeKalb is under a federal court order to clean up and improve its aging sewer system.
Meanwhile, Thurmond promised to launch a thorough investigation to pinpoint what happed with the water main break.
"We will determine whether the break was the result of a systematic failure, improper maintenance, wear and tear or physical tampering," Thurmond said. "I am committed to making sure our infrastructure is protected and maintained in a manner that will ensure quality service to the citizens of DeKalb County."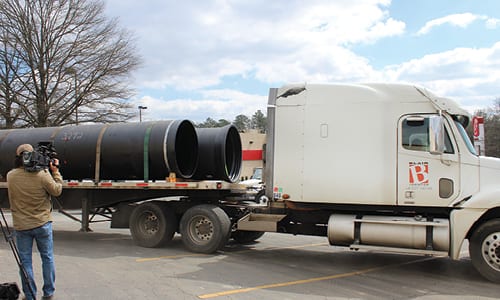 County officials mobilized a contractor and delivered equipment to begin removing debris and making repairs.
Although schools were reopened the day after the break, DeKalb school officials asked parents to send students to school with sanitizer and bottled water.
DeKalb officials advised water customers throughout DeKalb to "boil" all water for at least one minute after a full boil prior to use for drinking, cooking, or preparing baby food. Customers should continue to boil their water until they are notified that the water system has been restored to full operation, officials said.
Officials said eight tankers were brought into the county to supply water for fire protection and chillers at hospitals. DeKalb County Emergency Management donated more than 72,000 bottles of water for distribution to approximately 130 schools of the DeKalb County School District and three campuses of DeKalb Medical.
DeKalb Animal Services put out an urgent plea for water needed to care for animals in their facility and the community responded overwhelmingly with gallons of water.
"We are so incredibly grateful for the outpouring of support from our amazing community this morning! Our water has come back on, but we are still under a boil water advisory," shelter officials said in a Facebook post. "The donations we have received will ensure that our animal's bowls are kept full of clean water. Thanks to all of your support, we are no longer in need of water donations. Thank you to everyone who donated water for our animals today, we are so grateful to have supporters like you!"
Visit www.dekalbcountyga.gov for DeKalb updates during the water main break.
Meanwhile, neighboring Rockdale County is advising water customers of possible outages as Rockdale's water services department upgrades its network with new switches. The work will be done on March 15, from 5 p.m. to 1 a.m.
Maurice Ficklin, deputy director of Rockdale's Management Information Systems Management, said water customers might experience service interruption during that time period.