Testingfg of Ads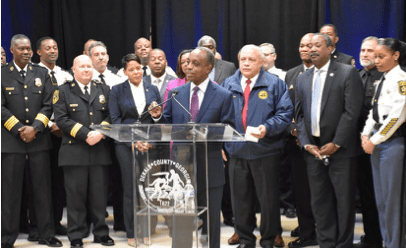 CEO Michael Thurmond is joined by county leaders at the Dec. 5 news conference.  
DeKalb County CEO Michael Thurmond has recommended to the county Board of Commissioners a 4 percent public safety salary increase. Included in the Fiscal Year 2020 budget proposal, the raise would be effective the first pay period in January 2020. The total cost of the compensation increase is $5.4 million.
"DeKalb County remains committed to ensuring that our community is safe," said CEO Thurmond. "The county's holistic approach to increase compensation for the men and women of public safety reflects the county's commitment to protecting DeKalb citizens and improving the county's public safety system."
The proposed salary increase would apply to approximately 2,300 employees, including police officers, firefighters, E-911 employees, Medical Examiner investigators, marshals, State and Juvenile Court probation officers, sworn Code Enforcement officers, Animal Services officers, DeKalb Emergency Management Agency employees, District Attorney investigators, Solicitor-General investigators, and Sheriff's deputies, detention officers and security technicians.
If approved by the Board of Commissioners, the increase would be the fourth public safety increase since 2017. A pay adjustment to address public safety salary compression was granted in 2017, followed by a three-percent adjustment for all employees including public safety and an additional four-percent raise for public safety personnel in 2018.
The full Fiscal Year 2020 budget proposal will be presented to the Board of Commissioners for consideration by Dec. 15.