Testingfg of Ads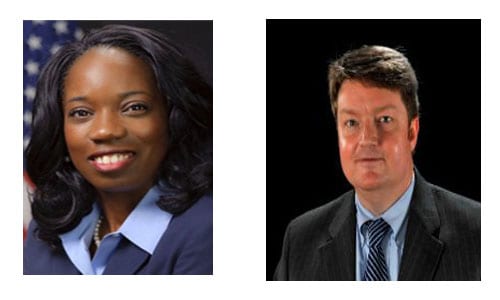 DeKalb County CEO Michael Thurmond announced two key hires to focus on enhancing and improving the county's infrastructure.
Ted Rhinehart has been hired as deputy chief operating officer for infrastructure. Rhinehart will serve in this top supervisory role for Watershed Management, Sanitation, Roads and Drainage, Transportation, Public Libraries, Fleet Management and Recreation and Cultural Affairs, Cooperative Extension and the Beautification Unit.
Rhinehart formerly worked for DeKalb in 2002 as Public Works Director and then in 2009, as deputy COO of Infrastructure. He has more than 27 years of experience in municipal government management and most recently served as the deputy city administrator for Augusta, Georgia. Rhinehart also worked for the cities of Bloomington, Fort Wayne and Indianapolis, Indiana. He has specialized in the areas of water and wastewater utilities, public works, parks and transportation services, as well as capital project management, financing and environmental compliance.
Former DeKalb County District Attorney Gwendolyn Keyes Fleming has been retained as a consultant to represent the CEO in all matters concerning DeKalb's consent decree with the U.S. Environmental Protection Agency (EPA) and the Georgia Environmental Protection Division (EPD). Keyes Fleming will provide non-legal support in creating strategy for compliance with the consent decree and in future negotiations with the EPA and EPD. She also will create and implement strategies for community engagement.
From 2010 to 2013, Keyes Fleming served as the first African American and first female regional administrator for the EPA. In 2013, she became the EPA's chief of staff, in which she served until 2015. Keyes Fleming was DeKalb's district attorney from 2005-2010 and solicitor-general from 1999-2004.
Keyes Fleming's most recent position was principal legal advisor for the U.S. Department of Homeland Security Immigration and Customs Enforcement.